Oh boy, where do I even start?
I hit the big 3-0 last month and although it was perhaps what I would call a simple celebration, the thoughts running through my mind were not as simple. I couldn't help by ask myself:
"What have I done in the past 30 years?"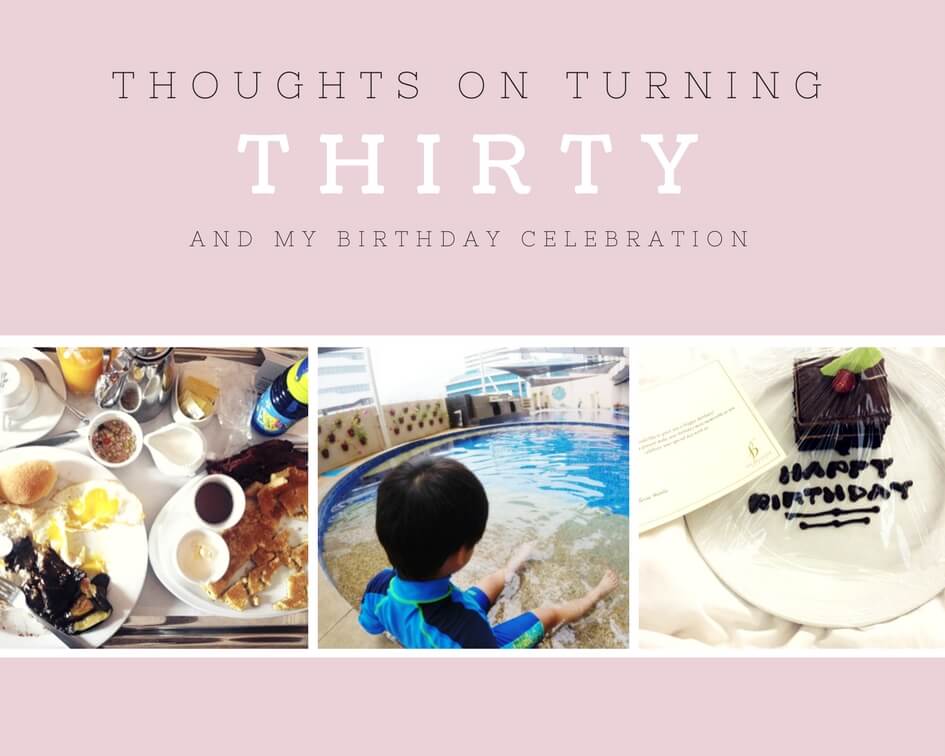 Let's put a pin on that.
Our family has grown to love staycations. I wanted to go to Tagaytay on my birthday so we could take E to Paradizoo and Sky Ranch. Yes, I know it was supposed to be MY birthday, but because he's going to start 'big school' this June, I wanted to be able to enjoy a nice family vacation together and tie in some things I know he'd enjoy.
Unfortunately, my Agoda booking was cancelled over trivial reasons.
As I was scrambling to find another place to stay at in Tagaytay, I found that almost every other place was booked. It's not the best thing feeling in the world when things don't go as planned, but I had no choice but to give up the Tagaytay. My husband suggested that we stay at a hotel in the city instead, one with a pool because E loves swimming, and just make the most of it. At this point I didn't mind anymore, I just wanted to celebrate my birthday with him and E, so I booked us a 3 day 2 night stay at The Bellevue in Alabang.
I've been to The Bellevue twice before – once to attend a company event and another time was dinner with my family at the Phoenix Court restaurant, both of which I enjoyed. This was my first time actually staying at their hotel.
Checking in was a breeze, the staff at the reception was warm and friendly and we were served a nice welcome drink. Within minutes we were already on our way to our room on the 18th floor.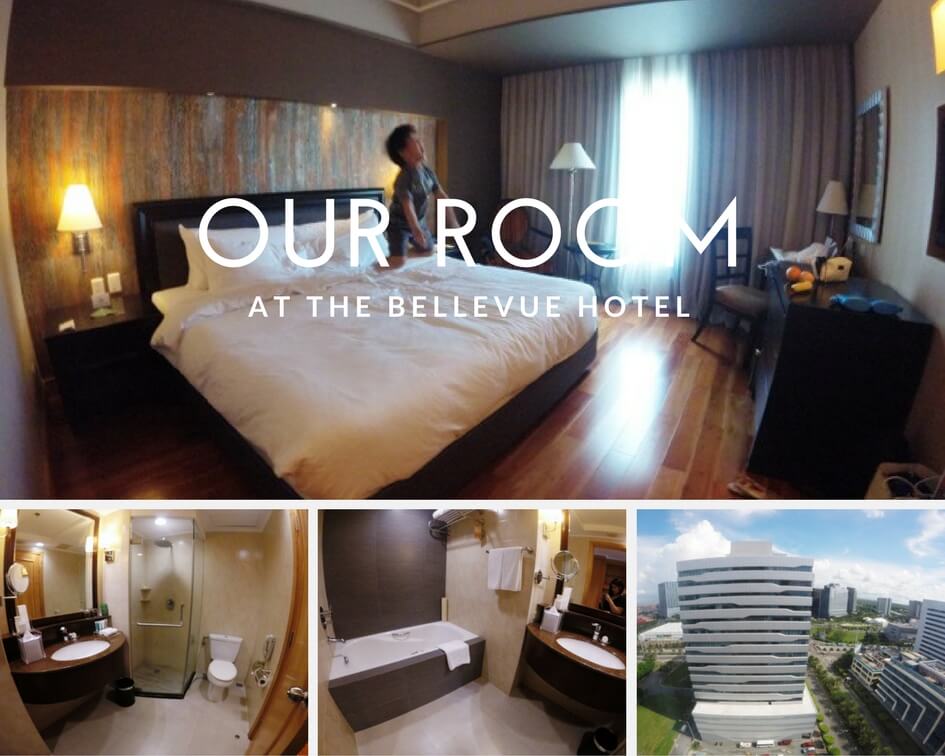 The bed was cozy, the bathroom was clean and had a tub, we had a nice mini kitchen, and the internet connection was strong (I had to work at night during our stay). We had planned on going swimming that afternoon but it started to rain plus we were tired, so we decided to wait until the next day to swim. As much as I wanted to go down to the restaurants for dinner, we didn't have the energy to chase E around, so we ordered room service instead and enjoyed dinner of pasta and pizza in our room. After putting my son to sleep and taking a quick nap, I set up my laptop and logged in for work.
Unpin.
While I was setting up my computer for work and taking pictures of the night view outside our hotel window, my mind suddenly played a slideshow of the past years of my life. It sounds cheesy, yes, but I think my thoughts were triggered by my taking photos, because I remembered how I wanted so much to be a photographer and then one memory led to another.
My first decade of life is pretty much a blur, but what I remember most are the days our family spent living in Bahrain, before we moved to the Philippines.
My second decade revolved around school. When I was in grade school, I was bullied for quite some time. Yeah, I wasn't a cool kid and it wasn't much fun.
High school days were much better, I think this was when I got to showcase most of my talents at school and at the same time find a better understanding of who I was and what I wanted to be. I also made a lot of friends, and great memories along with them. And of course crushes and heartbreaks haha.
College introduced me to the true meaning of 'stress' and 'challenges'. Late nights spent writing essays, reaction papers, editing videos and slideshows, studying for an exam – you name it. I graduated with a degree in Communication and Media Studies, with an initial goal of becoming a scriptwriter. Somewhere along the way though, I realized that I wasn't cut out for it so I focused my time and energy learning photography.
My third decade of life was the most eventful one – I started working, I fell in love and got married, lost a baby but found happiness again in my second one, my rainbow baby. I remember how I wanted to work for a photography studio after graduating, but because I wanted to earn enough to sustain photography as a hobby and source of income I decided to spend a few years working in a call center. The second call center I worked at became my second home for four years, and this is where I met my husband. Priorities changed as I slowly saw how my plans to work in a studio faded, and instead I found myself working towards getting promoted. However, since my husband shared an interest in photography, we decided to do some freelance photography work together and I was still able to practice as a hobby and business. I was with my husband/'then boyfriend' for two years before we got married, and soon after, our daughter was born. Unfortunately, she couldn't stay and had to go back up in Heaven. I had to start anew, so I found another job and eventually got pregnant again with my now whirlwind of a troublemaker. Within a year of giving birth, I gave up my office job to work from home, and have been doing so ever since.
Here comes the big question.. can I say that I am happy with the way my life turned out?
Let's put another pin on that.
After logging off from work the next morning, I was greeted with sweet Happy Birthday hugs and kisses. For breakfast, we decided to order in again. We did the math and realized we would save more by ordering room service (I was clumsy enough to book our stay with no free breakfast). Since it was my birthday, I treated myself to my favorite – Tapa! We ordered E's favorite too, he loves pancakes.
A few hours later, we decided to head over to the swimming pool and took a dip. We knew it was going to rain soon but we didn't mind and tried to make the most of it. It didn't take long though for the rain to pour down, and oh was this a heavy pour! My husband and I ended up laughing about it because we told E he finally got to play in the rain! I left them both to enjoy the rain and water in the pool while I took some pictures and moved our stuff to a dry place.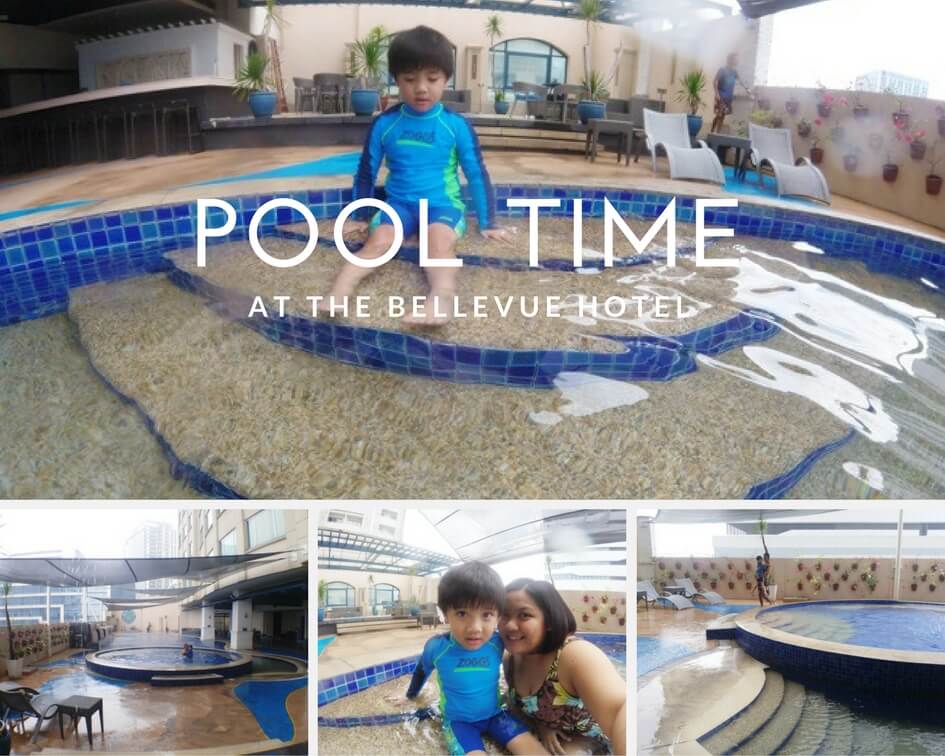 We decided to retreat to our room and just binge on snacks and Netflix, which I had set up on my laptop. My husband went down to run errands at the bank, then came back with three cakes from The Bellevue's Pastry Corner! I found myself gobbling down the one in the middle, which I think is a strawberries and cream cake. I brought the rest home and got to taste them, too. They were all really good!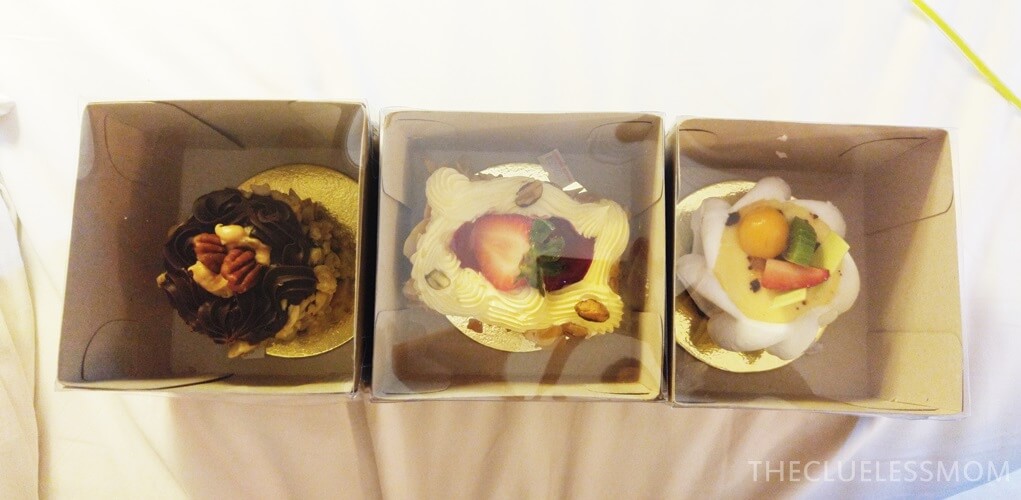 Later in the day, someone from the hotel knocked on our door to bring me a surprise cake! I thought my husband set it up, but it turns out it was the staff who pulled the surprise! Thank you, Bellevue!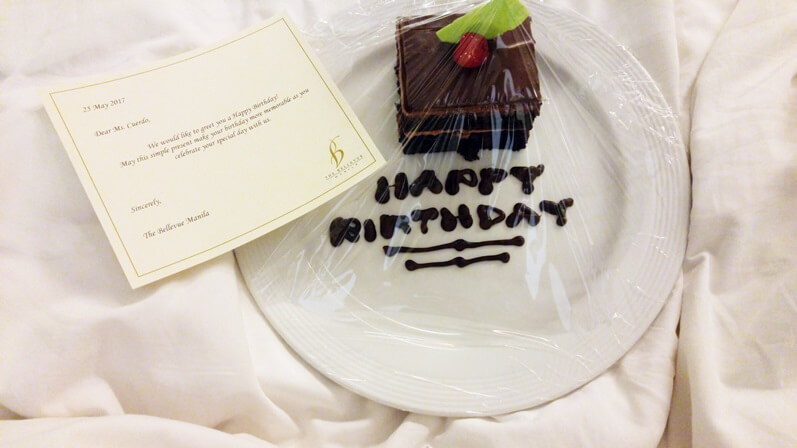 We spent the rest of the day going around the hotel, jumping on the bed, watching Grimm episodes and then we finally had dinner. This time we ordered from KFC delivery! I know it seems so lame that we didn't even go down and try the restaurants, but then again as much as we would've wanted to we knew E wouldn't keep still and we didn't have enough stuff to keep him preoccupied.
As I prepped for work that evening, I felt the ground shake. Literally.
It was an earthquake! My husband and E were fast asleep but I could feel the room shaking which made me panic a bit because we were on the 18th floor! It ended in a minute or two. Right then and there, I realized that it was the first time I ever felt an earthquake. No joke.
Unpin.
It's funny how the shake of an earthquake can trigger your mind to come to realizations. The first realization that hit me was "I'm not too old to experience new 'firsts', like just now, that was my 'first earthquake'". I know, an earthquake is not something to laugh about (and an odd 'first' to find notable), but stay with me as I expound further. At some point at my mid-twenties, I was having regrets. I could have pursued photography more seriously, or see more of the world and the Philippines, or take up a sport, or advance my career further. That's a lot of 'what-ifs'. There were more depressing days when I thought that I had missed out on these things already, the ships have sailed and I'm stuck here at home either working or tending E. But a sudden change in perspective made me realize that there's still a lot more I can experience and that turning 30 is not flipping the pages towards the end of the book, rather it's turning onto a new chapter. I can spend my first time in Tokyo Disneyland with E, or my first promotion to an Operations Manager at my current job, and even have my first published professional photo in a magazine. There's so much more I can do if I work towards making them happen.
My second realization came around when I turned to check on my husband and E as they were sound asleep. How did I get here, to this exact moment? Being in this fancy room 18 floors off the ground, with these two boys who I love and adore. The past three decades are what brought me here – the years of . learning new things, working and advancing at my profession, falling in love, suffering loss, and becoming a mother. It's true that I struggled a lot, but as I remember how my personal struggles have made me a stronger and more resilient person, I am filled with a sense of pride and triumph. Pride in the fact that I worked hard enough to earn my position at my current job, which pays me well enough to sustain our needs as a family and at the same time enjoy some luxuries such as that room on the 18th floor of The Bellevue. Pride in the fact that I have matured enough to raise a little human to become a sweet loving boy. Pride in the fact that I am still together with my husband, that despite our disagreements we find ourselves constantly happy in each other's company.
So, can I say that I am happy with the way my life turned out?
Of course I am. I am very happy.
To the Bellevue Hotel, thank you for the amazing stay and the surprise cake.
To the people reading this, thank you for bearing with me as I pinned and unpinned my thoughts.
To my parents, thank you for being my cheerleaders.
To my brothers, I can always be myself around you guys. Thank you for that.
To my husband, I know you can't stand me at times but thank you for loving me the way I am.
To my little troublemaker E, thank you for being my rainbow and filling my life with love.