Last month has been nothing short of crazy. I was recently promoted at my work-from-home job (hooraaay!) and I now handle a team of virtual assistants. With the added responsibilities came bundled added stress, I mean can you imagine being on your computer for eight hours straight? The first few weeks at my new post took a toll on my back, because I did not have a proper office chair to support it entirely.
So when I remembered that I had an invitation to try out the MedSpa services of the University of Perpetual Help DALTA Medical Center, I thought it would be the perfect opportunity to de-stress and relax! A big shout out to Mommy Bloggers Philippines for making this possible.
My Visit to Perps Skin and Body Center
Perps Skin and Body Center (MedSpa) offers a variety of services such as facials, body treatments, dermatological treatments, and massages.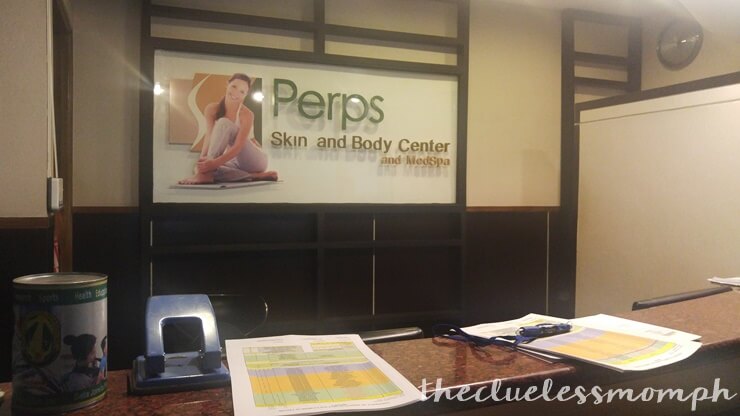 I was scheduled to visit Perps Skin and Body Center just this Monday, November 23. It is part of the University of Perpetual Help DALTA Medical Center's Wellness Complex, which is easy to spot along Alabang-Zapote Road, just across KFC Times. When you enter the Wellness Complex, the MedSpa is at the first door on the right.
Upon entering, I noticed the place was neat, clean and quiet just like most spas. The place may look at bit dated, but the relaxing ambiance is definitely there. I walked to the reception counter and was greeted with smiles. They had me fill out a quick form with my details and medical background and within minutes, one of the ladies at the reception, Miss Rio, offered to give me a tour of the MedSpa.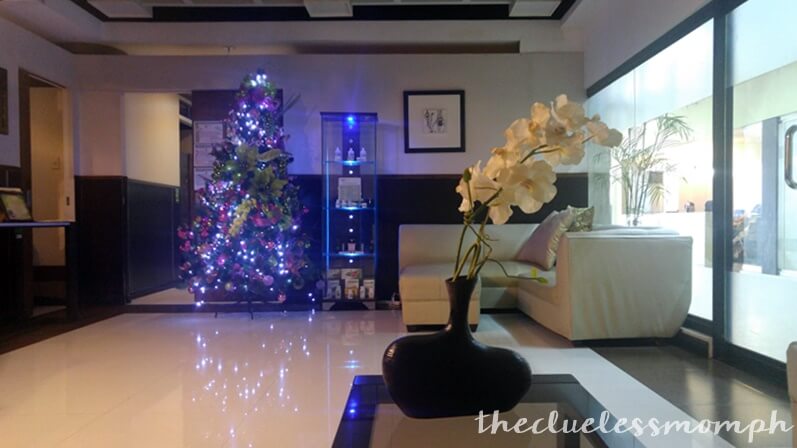 The massage rooms are not too small, just right I'd say. There's a sink and counter and a shower room in case you want to freshen up before your massage. I'm not a fan of the beach backdrop on the walls, but that's just my personal taste. I did like how you could dim the lights in the room because it helps set the mood for relaxing.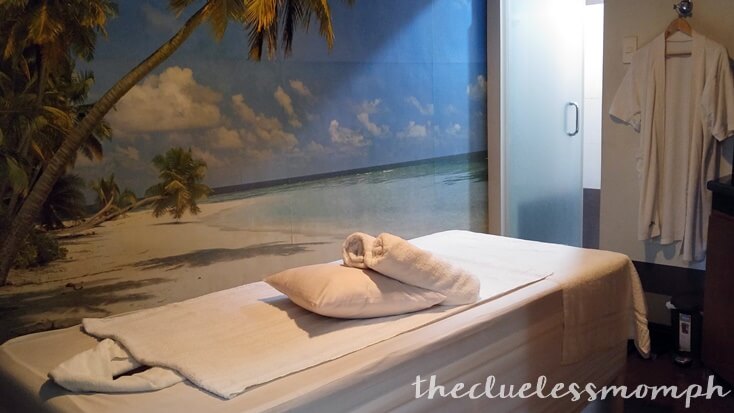 They also have this massage room for couples, which is bigger and has a couch – and a sauna! It made me wish I brought my husband along, I know he deserves a good massage, too.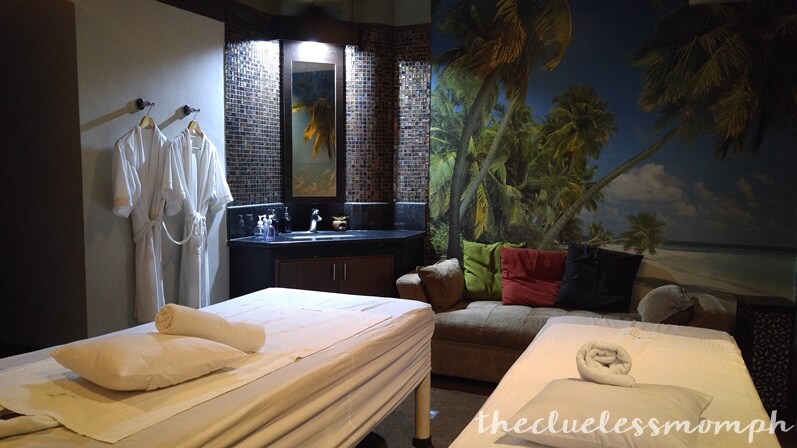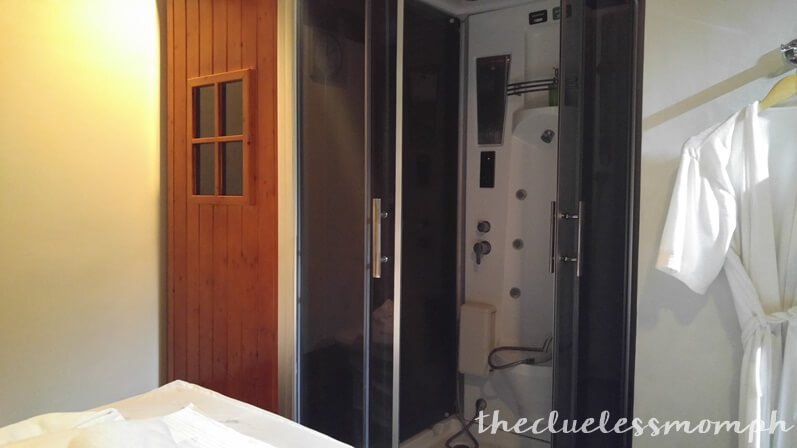 The MedSpa has separate rooms for dermatological procedures, all of which has ample space to move around in and a good number of equipment.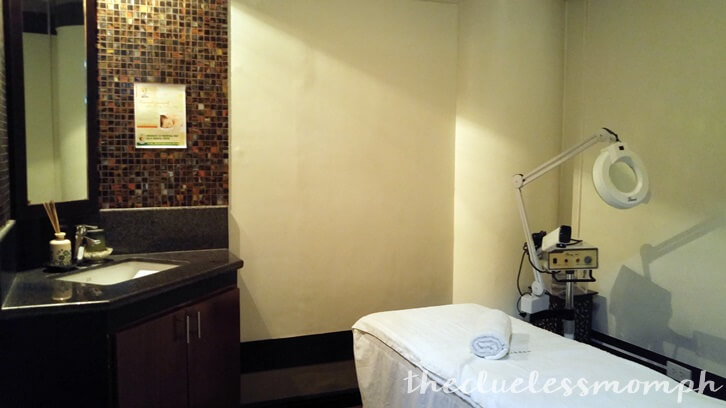 Finally, they have a Varicose Vein Center which was more spacious – but this is the only room they have dedicated to this type of treatment.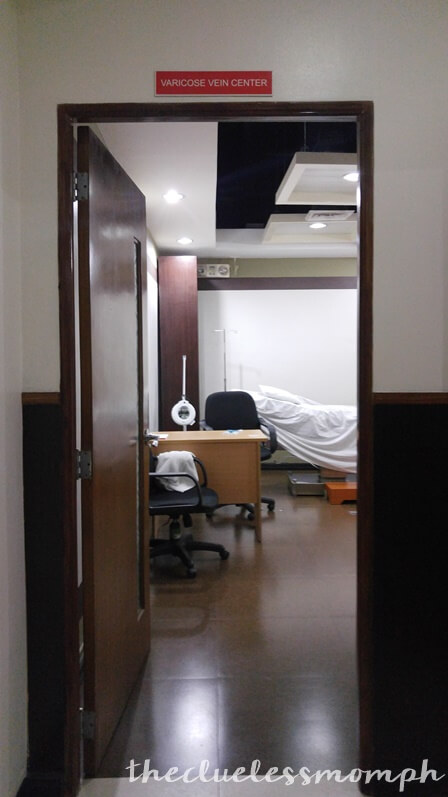 The MedSpa offers their own line of dermatological products, too.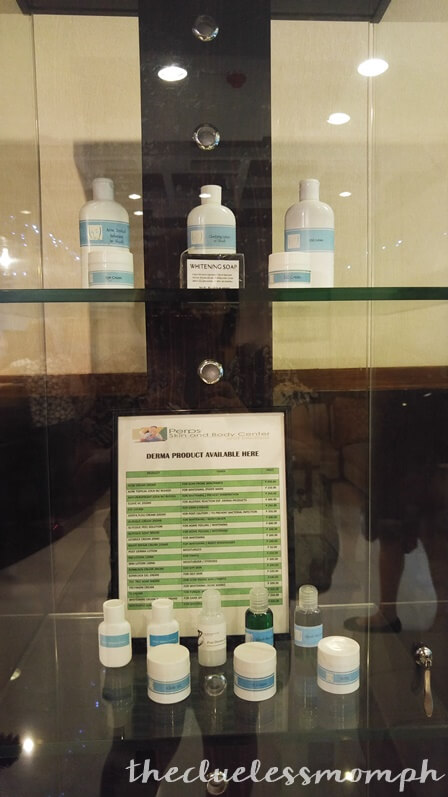 After the tour, Miss Rio told me that I am free to try their facial, Diamond Peel and full body massage. Unfortunately, I am currently using medicated creams on my face (blame acne) and it's at it's early stages of peeling. To avoid any problems, we decided to skip the facials and just do the massage, which I desperately needed for my aching back!
I was guided back to one of the massage rooms and left in the care of Brenda, one of their massage therapists. From what I've read, they are DOH accredited massage therapists, so I knew my back was in good hands!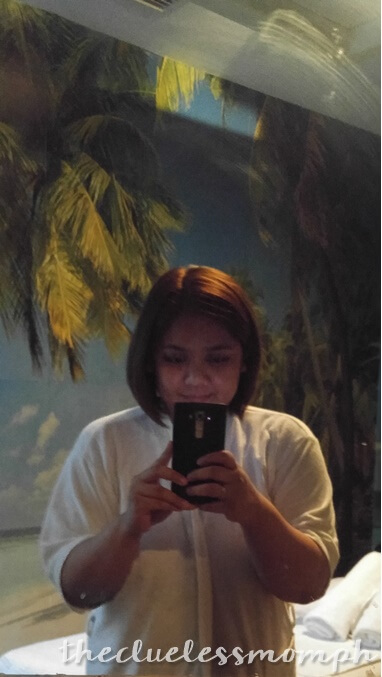 I was left in the room to change into a robe and soak my feet in a warm basin of water. After a few minutes, Brenda knocked to see if I was ready and then began the massage. I had a bad experience with a hard massage in the past, so I told her to keep it light. She made sure I was comfortable before we began. There was a good amount of pressure in her massage and I did feel relief in my back. It took about an hour and I can say it was a relaxing experience. Brenda wasn't the type who talked a lot and she respected my 'quiet time', she did engage in conversation only when I initiated it. Being madaldal by nature, I couldn't help but talk about work, my Little Troublemaker among other things.
After the massage she offered me a tiny cup of tea, which I think was ginger tea (I'm not sure haha), then left me to get dressed. I liked how the tea tasted so I took my time and just relaxed after the massage, got dressed then walked back to the lobby. They said I could try to come back in a week or two for the facial treatments when my face isn't peeling anymore.
That pretty much wraps up my pampering experience at the MedSpa. I liked how accommodating and friendly the staff was, which added to the good experience. I learned that the MedSpa is celebrating it's 4th anniversary today, and I'm sure they have a great promos in store for everyone!

If you're looking to try their services, I was told it was best to call them first and set an appointment so they can make sure they'll have someone to attend to you, which I think is ideal instead of walking in and waiting for someone to be available.
I'm looking forward to trying their other services soon, when I can spare the time again. Have you tried any of the MedSpa's services? How did you find them? Share your experience in the comments section!
Perps Skin and Body Center (MedSpa)
Wellness Complex, UPHDMC
Phone: 874 8515 local 449/450
Mobile: 09175762881