Our nights are never complete without lullabies.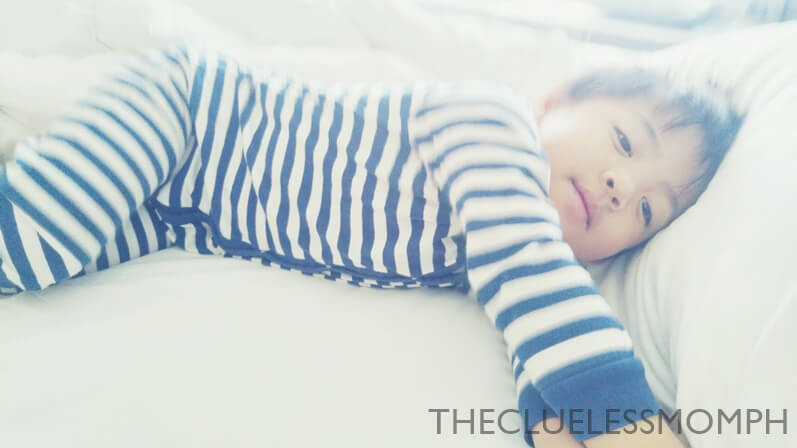 When I was young, my parents always sang me lullabies.. which were usually songs by The Carpenters, I think. Lullabies to me are nostalgic, and having someone sing you a lullaby is, I think, a beautiful way to bond. Whenever I'd hear a nice song on the radio, I'd sometimes think to myself 'This would make a pretty lullaby" and store it in the back of my head for future reference.
However, if you're like me and have gone through general anaesthesia thrice in two years, you tend to forget a LOT. So when The Little Troublemaker was born, for some reason I could not think of a song to sing him to sleep. Call me picky or whatever, but I wanted the song to be meaningful and not just some random pop song.The first song that popped into my head was "Skidamarink" because I used to sing it a lot when I was a kid! So I ended up singing him nothing but a slow version of "Skidamarink" for weeks, and I sang it so much that my husband learned the song, too.
As time passed my list of lullabies grew with songs that The Little Troublemaker enjoys and actually falls asleep to. I've tried singing him slow versions of our favorite songs, which are along the lines of rock and alternative, but they never really put him to sleep.
These are The Little Troublemaker's favorite lullabies:
Rainbow Connection (Kermit the Frog). This song is from the Muppet Movie, there's another version of this song by the Carpenters which I also like.
Til There Was You (The Beatles). One of my favorite songs by The Beatles, the video below though is from a Paul McCartney performance. I like playing this on the ukulele, too. I just love this song so much.
La Vie En Rose (Edith Piaf). This is a song I learned when I started playing the guitar in college. Although it was originally by Edith Piaf, a lot of covers have come out especially since Cristin Milioti sang it in How I Met Your Mother. Below is one of my favorite covers of the song by Daniel Andrade.
If I Didn't Care (Amy Adams). This song is originally by The Ink Spots, but Amy Adams sang this in the movie Miss Pettigrew Lives For A Day with Lee Pace, one of my favorite actors. This song was stuck on my mind for a while and I loved it so much that it ended up as a lullaby.
Hushabye Mountain (Dick Van Dyke). This song is from one of my favorite movies as a kid, Chitty Chitty Bang Bang. This easily puts The Little Troublemaker to sleep. To me, this is one of the most perfect lullabies ever with it's lyrics and tune. Again, there are several versions of this on Youtube, but I think Stacey Kent's version would make more people appreciate the song. But the original version by Dick Van Dyke will always be dear to me.
Beautiful Boy (John Lennon). What I love the most about this song is how it just expresses what every parent wants to tell their kids as they grow up.
Somewhere Out There (from American Tale). When I try to find songs to sing I like to sift through cartoons or animated movies I watched as a kid and remember which ones had nice theme songs. This was one of those songs, and would you believe The Little Troublemaker loved this so much that he actually learned to sing it on his own? When he throws tantrums we sometimes just start singing this and he calms down right away. Like an anti-meltdown song, lol.
You'll Be In My Heart (Phil Collins). This is The Little Troublemaker's current favorite song. He doesn't care for the movie Tarzan though, just the song. He especially likes singing the chorus, it just melts my heart especially when he says 'alwaaaays…'.
Little Bird (Elizabeth Mitchell). I'm not sure how I came across this song, I really can't remember. But this is a nice song to sing to kids, because there's a part where you ask them what sound the bird makes and they can answer back. Try to give it a listen and you'll know what I mean.
If You Rescue Me (from The Science of Sleep). I first heard this song when I saw the movie The Science of Sleep. The song is actually a version of The Velvet Underground's song 'After Hours', same tune except for the lyrics because words were made to sound like a kitten was singing the song. It makes a good lullaby so I like to sing it every now and then.
That pretty much sums up my list of lullabies. Although I sing other songs when I feel like it, these are the songs on repeat on most nights. When I'm too tired to sing I sometimes look for music box versions of the songs on Youtube and they work just as well, but that really can't compare to how much more soothing our voices are to our kids and how singing to them at night lets you bond with them more.
Do you love singing your kids to sleep too? What are your favorite lullabies?