Anyone who knows me personally would never peg me for a beauty or make-up enthusiast. I always had one of the plainest faces at school and work simply because I was too lazy to learn and I wasn't as kikay as my other friends. However, I've recently been attempting to learn how to do my own make-up because I realised that as a woman of my age and as a person whose stress just shines through her face (lol), I need to at least know the basics to make myself look decent when the occasion calls for it.
I've collected a couple of essentials for my kit already like BB Creams, blush and lipstick, but I always find myself browsing for products to add to my newbie arsenal. I also like to shop for anything that can help with my acne and blemishes (sigh, still from my PCOS).
So would you imagine my surprise when I woke up one day and read an email from BeautyMNL asking me to give their site a test run? Insert shocked emoji here!
BeautyMNL is the No. 1 and biggest beauty site in the Philippines where Filipinas can discover something pretty and new everyday.
A major part of BeautyMNL is the Shop. This is where you can browse through a wide array of beauty and make-up products. The Shop also carries a good range of mommy-and-kid friendly products.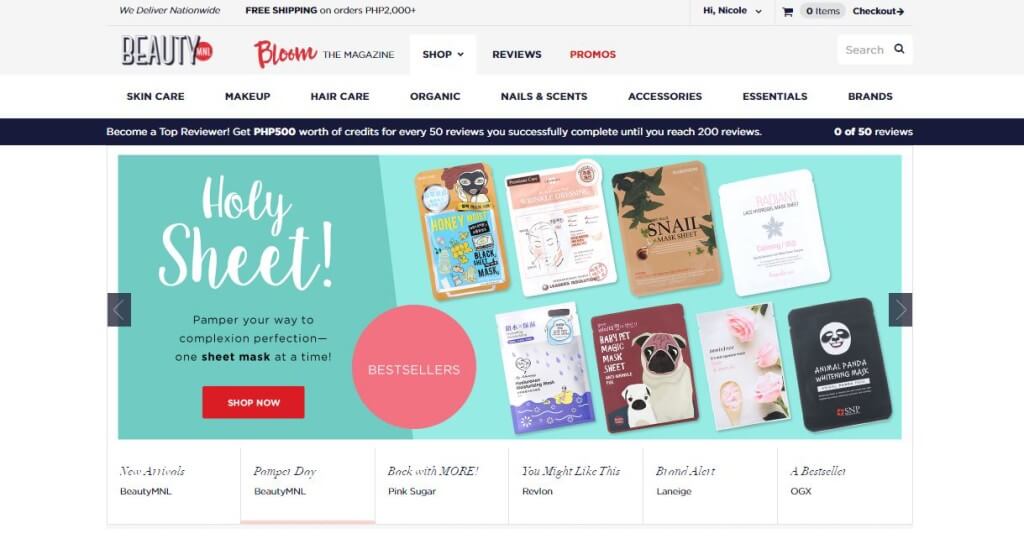 I've been on BeautyMNL several times before. I see their ads a lot in Facebook and I always enjoy browsing products in their Shop but never got around to purchasing anything yet.. until now!
It's easy to navigate the website because you can view products through different categories or by brand. When you select an item to view, you get a detailed description of the product along with reviews from other users, which is something I really find helpful.
From browsing products to checking out and finalizing the purchase, the entire process was easy peasy. I used PayPal (as a personal preference because I want to protect my card information) and got prompt confirmation of my orders. I monitored my order through the Order Tracking section of my BeautyMNL account and I received my package within two business days.
Are you wondering what products I got?