How are you, clueless moms?
I still can't believe that my son is turning one next month! Has it been a year already? When I look at my son nowadays I find myself thinking "Stop growing! Can you stay like this for a few years more?". Sigh, but it is inevitable.. he's growing up!
Now that he's turning one, I want to go all out on his first birthday party however after giving it some thought, we decided to settle for something more reasonable. Though I just began my work-from-home job, we did come across some money and managed to secure a venue. At first, I was eying Shakey's Pizza. Unfortunately though, there are no decent Shakey's branches near our area. There is one along Evia Daang Hari, but they don't hold birthday parties on weekends. Crazy, right?? I didn't want to have the event catered either, it can be quite tiring having to speak to several people like with my son's baptism. While doing some research, a lot of people recommended Fun Ranch to me. When I visited their website I thought it would be a perfect for my son's first birthday and then I started bugging my husband about it. After a few weeks, I managed to visit Fun Ranch Alabang and reserve a room and date for my son's first birthday!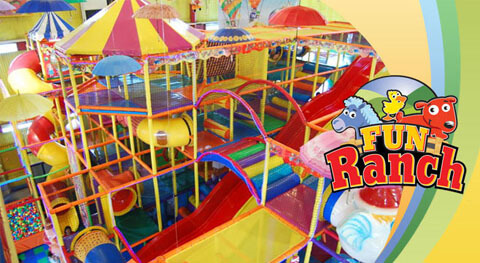 from Google images
We chose the Main Barn which costs P35,000 and is good for 100 pax. It is spacious, neat and is right next to the play area. The P35,000 is inclusive of consumable food and drinks. I have yet to choose our menu, but I may focus more on their best sellers and recommendations.
What's good about Fun Ranch is that they're like this one-stop shop for parties – they offer other services such as entertainers, hosts, photo booths, food carts, etc. They may come across as expensive compared to others, however if you choose to bring in external party services, there is a corkage fee of P1000! I'm really lucky though that some of our family members offered to pitch in for some of the services and everything is coming together nicely.
I may finalize more details this week and would love to update you guys soon. I'm also planning to DIY the decorations so I hope that works well for me!
I'd love to hear feedback about Fun Ranch, especially about the food! Your suggestions are also welcome!
Catch you later, clueless moms!