Ethan is not a big fan of shoes. In the past 6 months I have purchased three shoes which we barely use because he gets cranky when we put them on. When we do get him to wear them, they either come off easily or he stops a lot when he walks, probably because he's uncomfortable. I tried slip-ons with leather soles, tiny squeaky rubber shoes and some cheap slip-ons with socks.
Now that Ethan is becoming increasingly active, I've come to realize that he needs a good pair of shoes. He spends a lot of time walking and running, and he needs durable yet comfortable shoes that he can wear at home and outdoors. I was so lucky when
Mommy Bloggers Philippines
and
Attipas Philippines
gave us the opportunity to try out the Attipas Baby Shoes, the timing could not have been more perfect!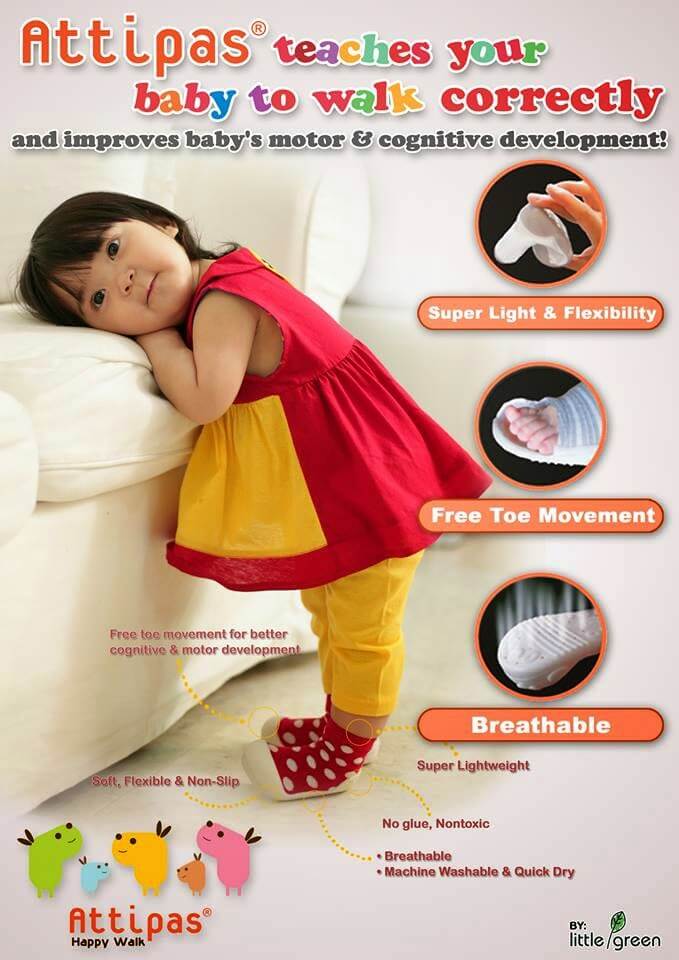 Attipas Baby Functional Shoes are designed to teach our babies how to walk correctly while providing comfort, durability and safety. They come in different styles and colors, too!
Attipas Baby Functional Shoes is aimed at helping babies to start walking correctly by evenly distributing foot pressure and correct toddler's walking behavior while he/she learns to walk. The design is based on kinetic and physio-dynamic test of toddlers' walking that enables the steady and stable walking pattern of the toddler. It also helps in the toddler's brain development by enabling the sole and toe movement while walking. (from the Attipas Philippines Facebook page)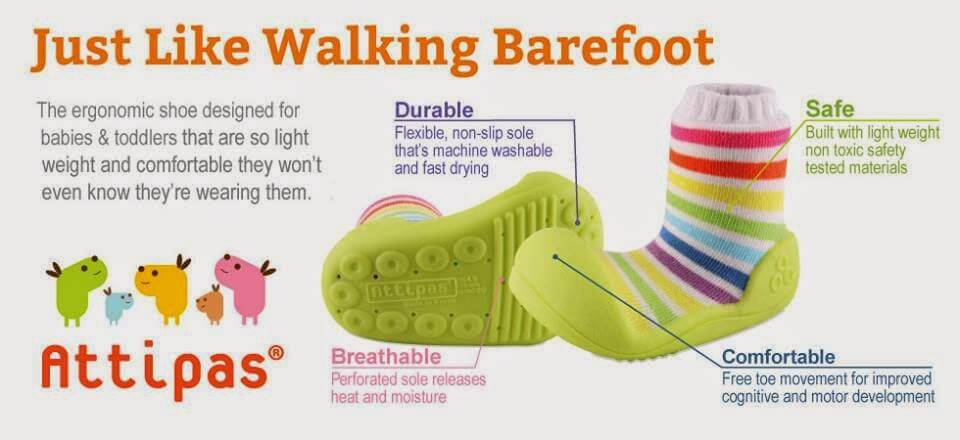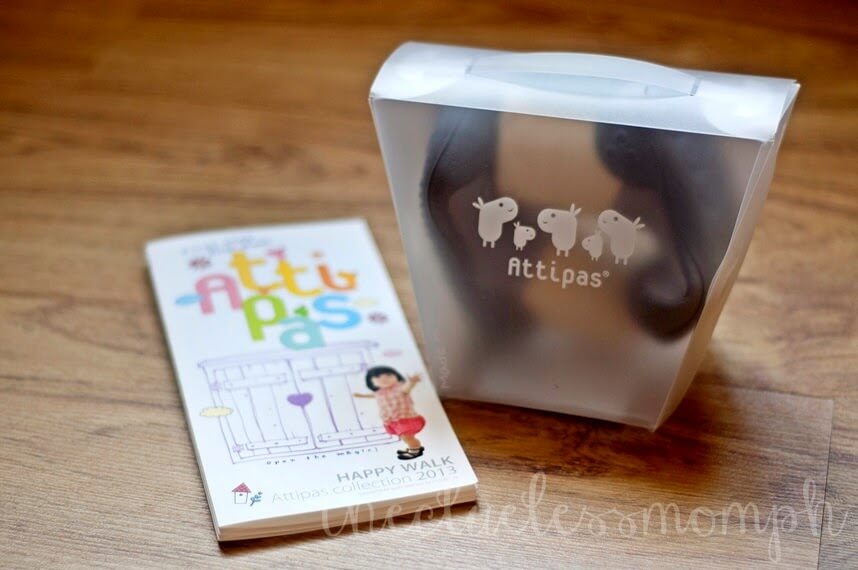 Check out the cool packaging!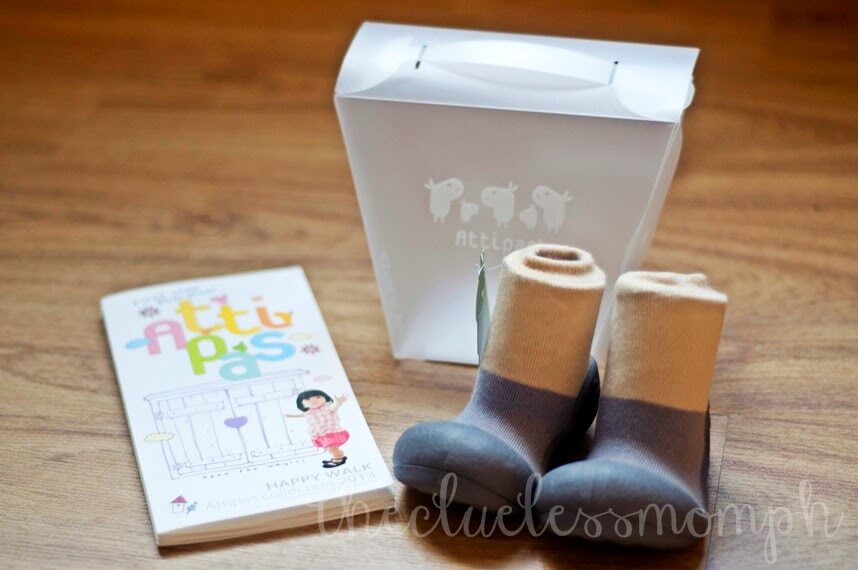 Ethan's very own Attipas! They sent us one from the Natural Herb Collection in Yellow Gray
They arrived just a day before our big trip to Subic! Again, perfect timing!
When we had Ethan try them out, he was fussy at first and he tried to stop me from putting them on! But as soon as we got the shoes on, he started walking as if nothing happened. He did stare at the shoes at first, but then he went back to running around. Here are a few things I noticed:
He does not constantly stop anymore, like he did with his old shoes.
They don't slip off like most slip-ons with socks do. He had them on for a couple of hours and they did not come off at all.
He did not get itchy or irritable from the socks, he usually does not like wearing socks!
He rarely trips or falls down.
During our two days in Subic I had him wear the shoes every time we'd go out. I can honestly say that based on our observations, these shoes are barely noticeable to him.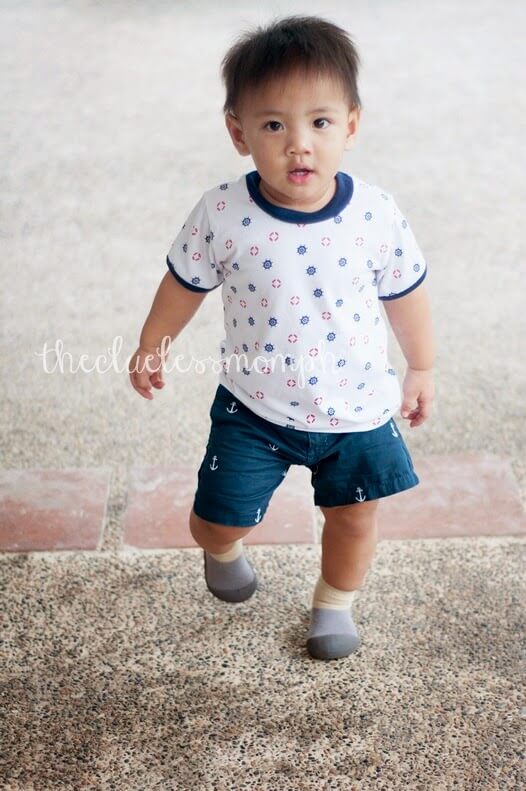 I love walking in my Attipas!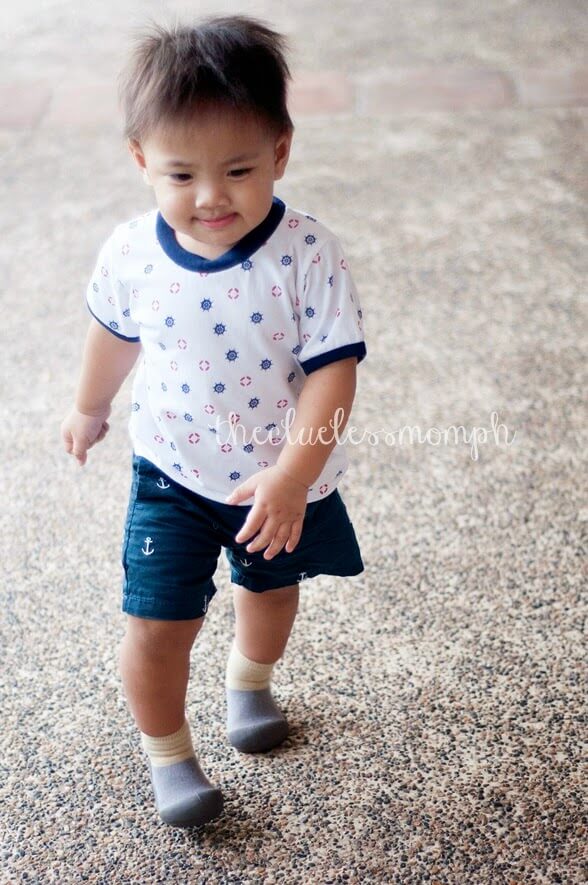 A budding model in action!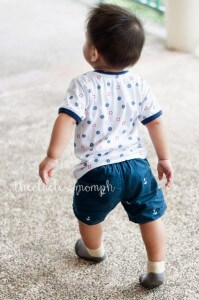 Their Red Marine design would be perfect with his outfit here!!
Upon checking the pamphlet they included in the package, I realized that there is a special benefit to the Natural Herb variant that they sent us:
"Natural Herb yellow is dyed with Amur Corktree. Amur Corktree is one of the most frequently used medical substance from old days. It is known to have outstanding effect for skin drying and sensitive skin. For contemporary people who pursue well-being, natural dye is a great gift. These natural dye will be a present to children with skin trouble like atopy inflammation"
What are the odds that they would send me shoes with such benefits? My son has skin asthma and has patches of eczema on his feet and legs. Come to think of it, this morning I noticed that the patches in the crease between his left foot and leg were gone – completely gone. I'm not sure if I can attribute it to the shoes, or to the salt water when we hit the beach – or both? I can't tell. But the fact that they could incorporate such healing properties to shoes is just amazing.
All I can say is that these shoes are awesome and true to Attipas' claims! I still have to observe though if there are any signs of improvement in the way he walks. I checked out Attipas on Lazada and they go for P899 to P1000+. Some of you mommies may find them expensive, but I'm telling you, they are worth it. You just can't find shoes that offer so much.
Okay, mommies. Let's sum it up, here are a few more amazing things about Attipas Baby Functional Shoes:
PROS
Easy to put on – goodbye to velcro straps and shoelaces!
Lightweight and flexible – perfect for active babies
They don't easily slip off, they stay put!
Non-slip – thanks to it's Silicone soles
Comfortable and breathable
Safe for babies – made from 100% non-toxic materials, No hazardous materials and no glue or adhesives, no use of Formaldehyde
Easy to carry in your baby's bag, they aren't bulky
Easy to clean – they're machine washable and they dry fast
They come in a lot of designs! They have collections such as Rainbow, Animal, Corsage, Ballet, Marine, Together, Sneakers, Polka, and Natural Hurb!
CONS
I honestly can't think of any. Some might say price, but I'd definitely buy Ethan another pair without hesitation. And with everything listed above, I can't come up with any reason to dislike these shoes.
Have you mommies tried Attipas' for your babies and toddlers? Let me know what you think of them!
Attipas is exclusively distributed by CKMJ Greenovation Inc. with contact number 559-5140. Attipas functional toddler shoes are available in Tarte Tatin (Rockwell and Greenbelt 5), Babyland (Shaw, Eastwood and Festival), Rustans (Shangrila, Makati and Alabang), Babyzone (Fisher Mall), Baby Steps (Festival Mall), Wellworth Department Store (Fairview Terraces), Landmark (Makati and Trinoma), Fisher Mall Department Store, Kuku Duckbill (Market Market), Baby and Kids (Festival Mall); and online through www.facebook.com/PurpleCradle, cudsly.com and Lazada.
Check them out on Facebook: www.facebook.com/AttipasPH