Yesterday, the biggest blogger event of the year took place at SMX SM Aura, and I was so excited to be a part of the 700 bloggers who were invited to join. Yes, I'm talking about Blogapalooza 2014!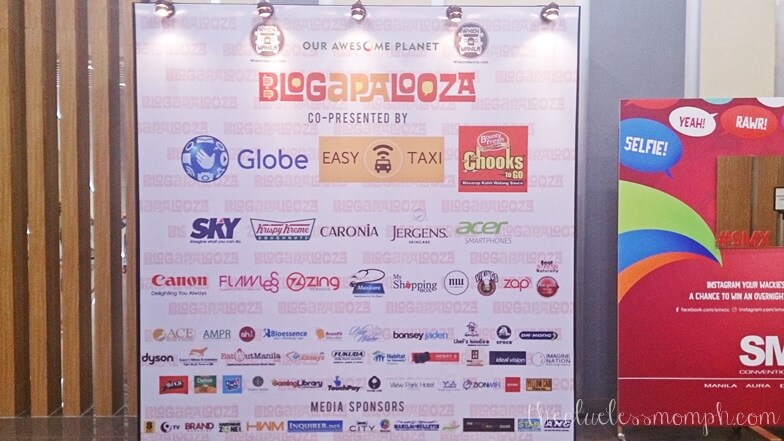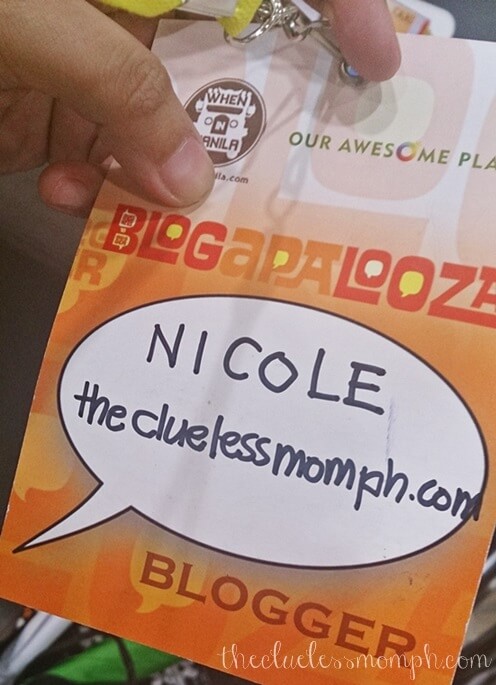 Blogapalooza 2014 was organized by the people behind When In Manila and Our Awesome Planet to bring brands and influencers together. Indeed, bloggers got to interact with different brands, participate in activities and games, and bring home bags of freebies and prizes!
I arrived at SM Aura an hour before the event and bumped into some fellow bloggers from Mommy Bloggers Philippines: Lani of Tweensel Mom, Louisa of Art of Being a Mom, Razel of The Bag Investigator and Jho of There You Jho. Since we arrived early there were barely any people in line so the registration was quick and smooth. When we entered the venue most booths were still setting up. We decided to walk around together and check out the booths.
Each booth had a brand presenting their products and services. Almost every booth held games, which gave us bloggers the chance to win prizes like power banks, beauty products and GCs. Here are my favorite brands from the event: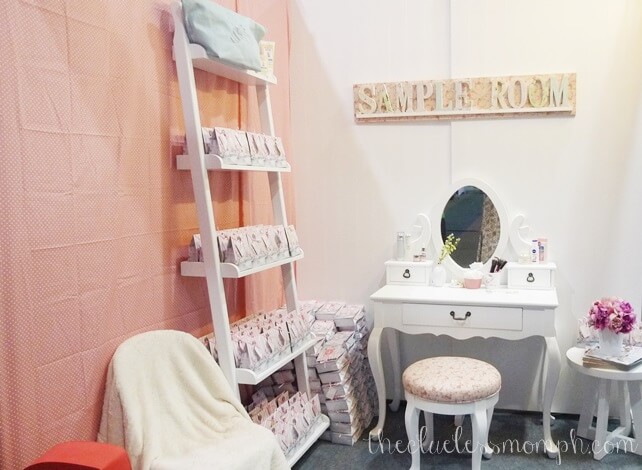 Sample Room PH gives you the option to try beauty products before you buy them. Their booth was dainty and was a hit with the female bloggers. We got free loot bags and were asked to join their creative selfie contest. As I felt that I have miserably failed to be creative, I decided not to post mine anymore. LOL. The prize was a Burt's Bees bag and several Burt's Bees products!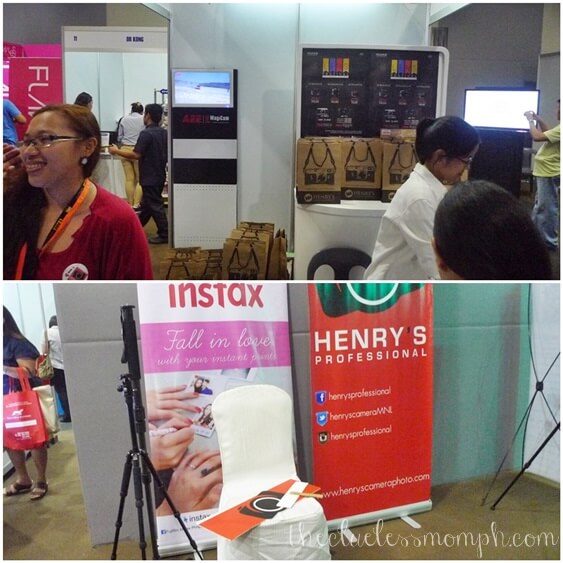 Henry's Professional is a brand I've known for years. I heard about them when I started out in photography and I always used to drop by their store in Hidalgo. They carry various camera brands and accessories and they are trusted by many photographers. What seems to be a hit nowadays is the Instax camera. Though I own one already, I would LOVE to get my hands on their Instax Share! They handed us a loot bag which contained a mini lens pen and they asked us to join their contest for a chance to win an Instax Share! I hope I win!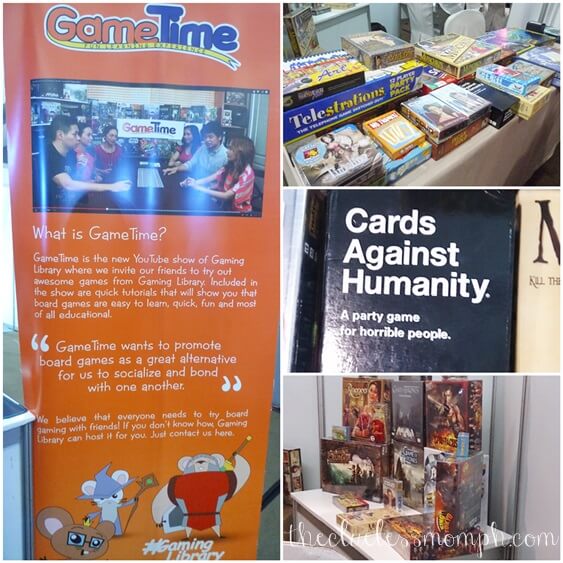 The Gaming Library booth immediately caught my eye because I saw some familiar board games that my brothers own as well as unfamiliar games that looked interesting. We were asked to register and play Timeline where we had to draw a card from a deck of historical events and properly place it in the "timeline" of existing cards according to the year that the event occurred. Though I love World History, I sucked at Timeline. Apparently too much general anesthesia has gone to my brain. LOL. I still got a discount card though! One of the card games, Cards Against Humanity, piqued by interest, and John (I hope I remembered his name right) was nice enough to demo the game for me. It was silly but fun! I didn't have time to sit down for an entire game though, because I had so many more booths to visit!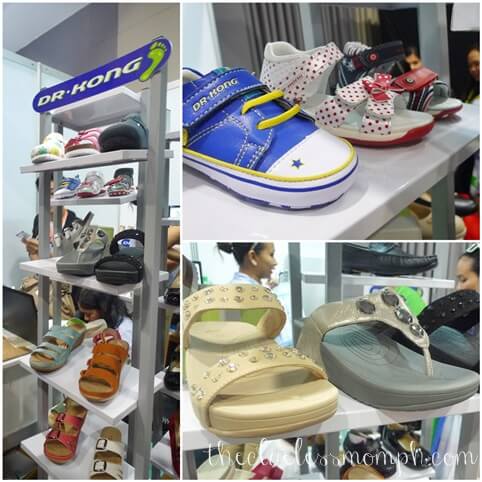 Dr. Kong was another interesting booth, because they offered free foot assessments. I didn't bother getting one because there were a lot of people at the time. They asked us to sign up for free membership cards and we got them right away!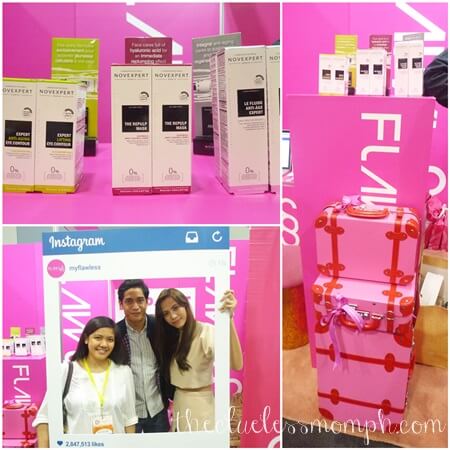 Another booth that was a hit was the Flawless Booth! When we first dropped by, we were just asked to sign up and one of the ladies from Flawless told me to have my picture taken with Divine Lee and Victor Basa, who were both endorsers for Flawless. I don't normally take pictures with celebrities, but since they were right next to me, I found it rude to refuse. Divine was really nice and sweet. After the picture she asked me what I write about and asked for my calling card. I decided to roam around a bit then returned to their booth when their "Pop-a-Zit" game (where we pop small balloons with darts) started. Since I'm unlucky at games, I didn't win any big prizes, but I still got a nice loot bag!
After visiting a few more booths we decided to grab a bite. Yellow Cab was giving out pizza slices, while House of Lasagna was giving out.. err, lasagna! Please pardon the bad pictures, I had my hands full with lootbags and an umbrella so I was just firing away!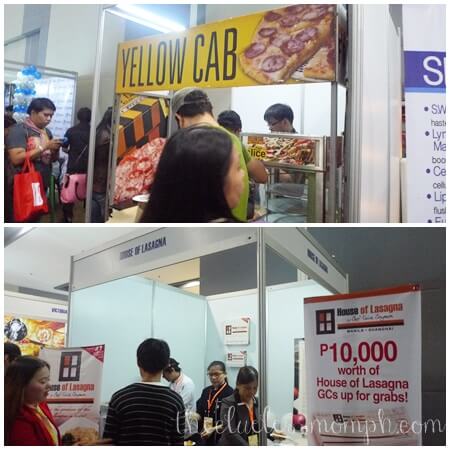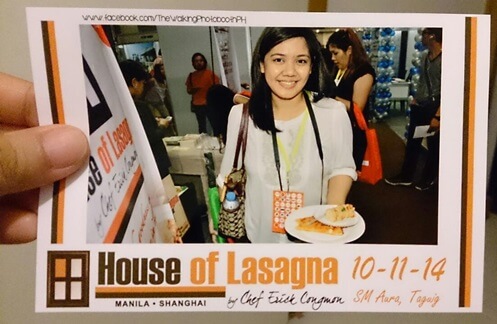 The lasagna was deeeee-licious. I felt bitin with just one slice, haha! The food was enough though to satisfy our hunger. We headed near the stage to seat ourselves, then we ate our food while watching the ongoing program.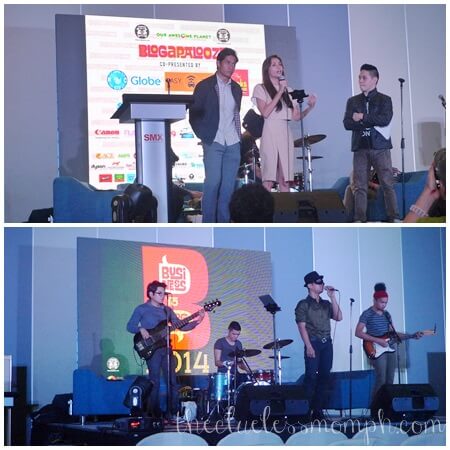 Now, back to my favorite brands!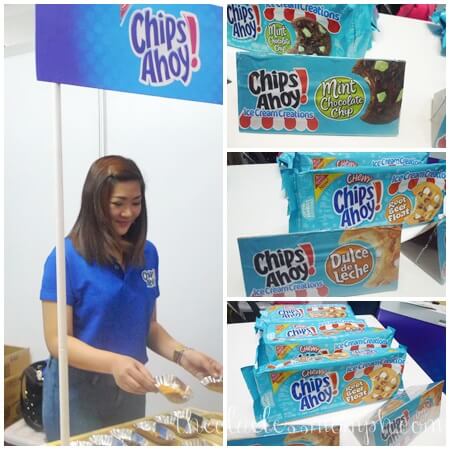 Who does not love Chips Ahoy? They were at the event to introduce three new flavors from the Chips Ahoy! Ice Cream Creations: Mint Chocolate Chip, Dulce de Leche and Root Beer Float. We got to sample each, and my favorite was the Root Beer Float!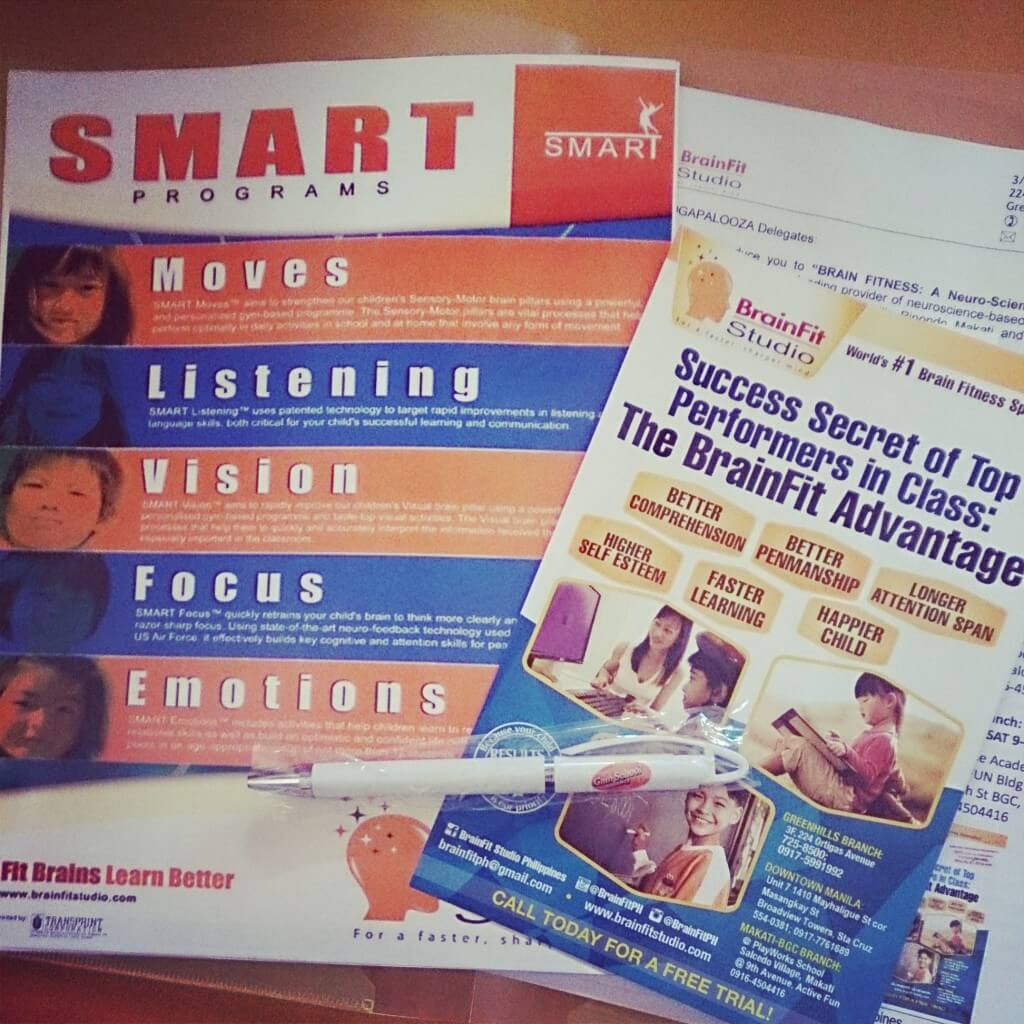 We also came across BrainFit Studio which offers conferences and workshops to enhance a child's learning capacity. They also offered us to try their COGMAP which assesses a child's cognitive abilities, however, it turns out Ethan is still young for the assessment as the recommended age is three to five years old. I can't wait to read more about their progams, though. I might consider having Ethan assessed when he's a bit older.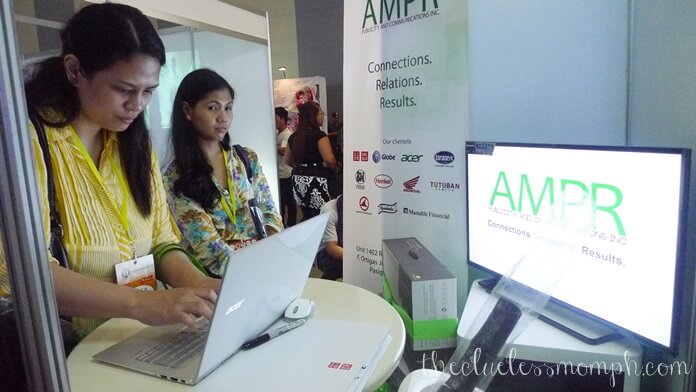 AMPR is the public relations company behind Dial's Showered With Coco campaign. Their other clients include Globe, UNIQLO, Acer and SM. They held a game where you had to re-arrange a set of letters to form as many words as you can, like Text Twist. I'm usually good at these games, but when it was my turn my set of letters had only one vowel and it was very hard to come up with enough words to win. Bummer.
Shortly after, I spotted Chris Urbano of Maputing Cooking and asked for a quick picture!
We headed to the other side of the venue to check out the other booths, but this time I was on my own because the rest of the mommy bloggers had to go out for a while, and I was supposed to meet up with another blogger friend who never showed up! Boo.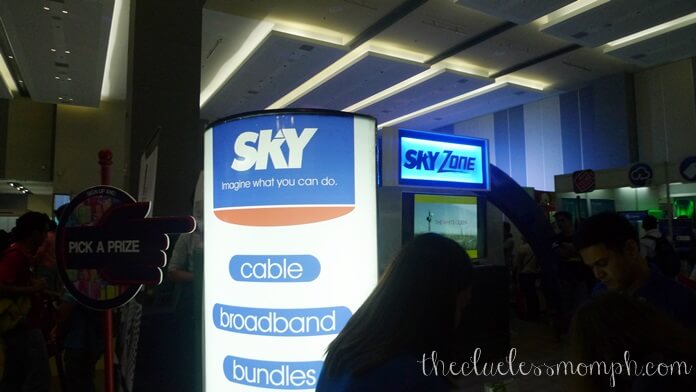 Again, pardon the lack of good photos. By this time I was lugging around two full eco bags. I failed to take a decent picture of the Sky booth, but this was one of my favorites because of their trivia game (which was behind that beaming pillar). I had to answer 20 questions all about TV shows. At first it was quite easy because there were Game of Thrones questions, but as we were nearing the 20th question they became more difficult! How should I know who the producer of Scandal is, or the writer of House of Cards. Seriously. But still, it was fun!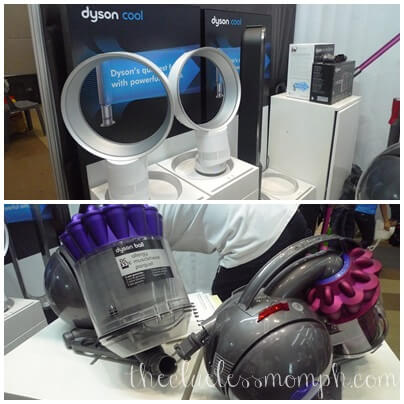 I couldn't get over how amazing Dyson's products were. The bladeless fan would be perfect for our home since Ethan likes poking his finger into our stand fan. Kurt of Dyson PH explained how the technology works and how the fan is designed to prevent overheating, thus prolonging it's lifespan to about ten to fifteen years. Unlike conventional fans, it does not accumulate dust and is perfect for allergy-prone people such as myself. And would you believe that the small fan only consumes 40 watts? Just awesome. The price though might burn your pocket, because the small one costs around P19,000 already! However, these are products that are designed to last, so I guess their products are really worth the price!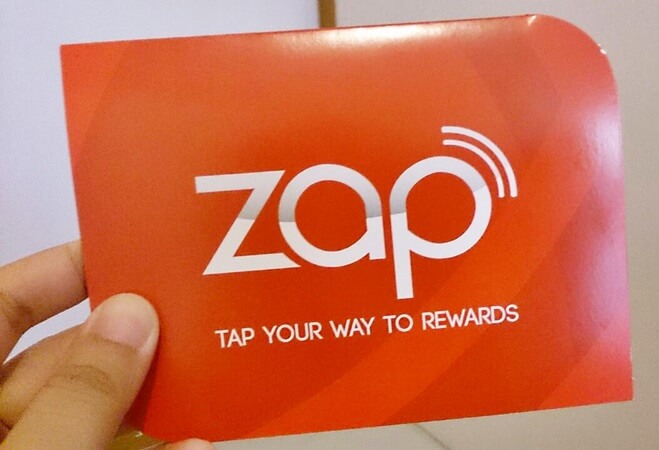 Another favorite is ZAP. When I approached their booth though they didn't seem too excited to talk to me, LOL. And once again, I forgot to take a picture. Anyway, ZAP is awesome. Why? Because when you use ZAP at their partner merchant stores, you can get up to 20% cash back points on every purchase you make. All you need to do is register your mobile number! What's more is that these cash back points can be accumulated and are as good as cash, meaning you can use these points to make purchases, too. I checked their merchant list and found some of my favorite stores. I can't wait to try using ZAP during my next meal or purchase!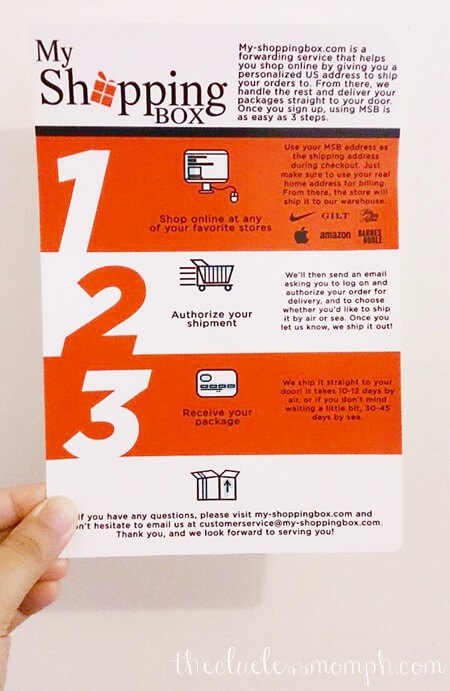 The last, but not the least is My Shipping Box. I was not able to take a photo of their booth because I was too engaged in my conversation with Lorenzo, who told me all about My Shipping Box and how it works. It's a freight forwarding service that provides you a US address for purchases you make through online stores such as Amazon. Once the package is received at their US address, My Shipping Box then ships the package here to the PH and delivers it right to you. What's amazing is how much cheaper their service is compared to having your package shipping all the way from the US to the PH. I remember wanting to purchase some Mod Podge from Amazon before but cancelled the transaction because the shipping cost way more than the items I wanted to purchase! I can't wait to try My Shipping Box's services and experience a more convenient way to shop online.
There you go! Those were my top favorite brands from Blogapalooza. Here are other awesome brands that are worth mentioning, too: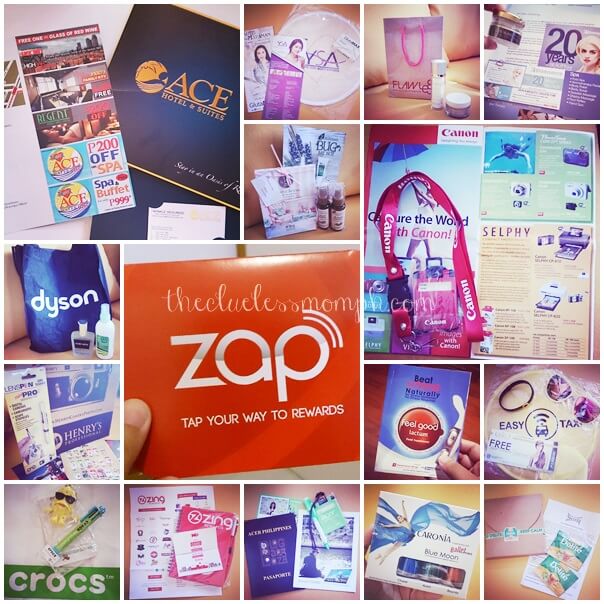 I sure had a blast getting to know these brands and meeting other bloggers, especially the moms from Mommy Bloggers Philippines. It was indeed tiring but totally worth the travel to and from Cavite! I'm definitely looking forward to meeting more brands and bloggers at next year's Blogapalooza! Congratulations to When In Manila and Our Awesome Planet for a successful event and thank you for giving us bloggers such an amazing opportunity to connect with these brands.
See you all next year!