Hi mommies!
Here I am with another Favorite Finds post, this time for the month of April. There's not much to talk about because we've been saving up for my son's birthday and I've been avoiding extra purchases lately.
I was, however, sent some awesome products by GIGA, a local company that takes pride in creating natural everyday products.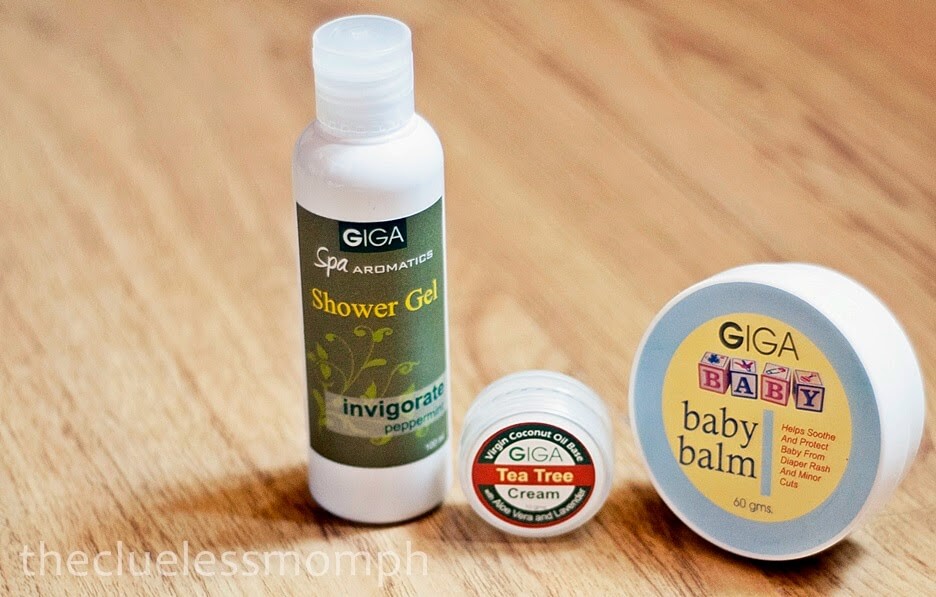 I was so excited when these arrived!
I did a bit of research and found out that GIGA actually stands for "God is Good Always".. awesome, right? To know more about their story, click here.
The items I received were:
GIGA Spa Aromatics Shower Gel in Peppermint
GIGA Tea Tree Cream (formerly called the No Itch Cream)
GIGA Baby Balm
Let me talk about each real quick for you guys!

GIGA Spa Aromatics Shower Gel in Peppermint. This product was perfect for the summer heat! I love how the peppermint is not overwhelming, and the scent was mild too! This always left me refreshed after every bath. It was a shame though that I only got an itty bitty bottle because it only lasted a week, probably because I was taking several baths a day! This shower gel comes in other variants such as lavender and grapefruit.
GIGA Tea Tree Cream (formerly called the No Itch Cream). I have raved about this product in one of my previous posts about addressing my son's mosquito bites and keeping him dengue free. This just works wonders for little itchy spots here and there for both babies and adults. This summer I noticed how frequently my waist would itch especially after a long day of wearing jeans in this humid weather. My skin is sensitive, so it easily reacts to such conditions. In these instances, I'd take a quick shower and apply the Tea Tree Cream around the itchy area and I always feel better in minutes! This product is a must-try especially if you have persistent itchy spots and sensitive skin.

GIGA Baby Balm. I haven't tried this product on my son's diaper rashes yet because his skin is really sensitive and his rashes have been getting worse lately. I decided to stick to the medication his pedia provided and wait until his skin recovers. However, I do use this balm for small scratches and they do go away in a day or two and don't leave marks. This balm is really mild scented and it easily spreads when applied. I'm pretty sure this small tub will last long. I have yet to discover other effective uses for this balm, but I'll be sure to update you once I come across any.
Mommies, have you tried any GIGA products? Which of their products do you like best?
PS: Thanks to PJ of GIGA for sending these over!!