Now that I'm on holiday break I finally have the time to blog about our son's baptism at Santuario de San Antonio and our supplier reviews.
I know many mom's consider other people's reviews and experiences when choosing suppliers, so I'd be glad to share mine and I hope that this post would prove to be useful to some of you moms out there. I'll be writing a separate post about the actual event soon.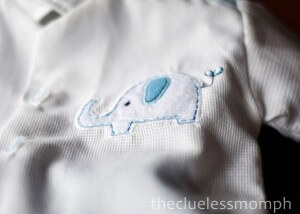 McKinley Road, Forbes Park
I chose this Church because our families could meet halfway here and the Church is beautiful and peaceful. I used to pass by this Church all the time on the way to work and I was always drawn to it for some reason. Some say my choice was too "sosyal", given that it is located in Forbes Park, but I really didn't see it that way.
The Church's Baptistry
I visited their website then gave them a call to confirm the available dates. The calendar on their website is not always updated so it really is better to call for information. I spoke with Joan and she reserved a time and date for me provided that I submitted the requirements and payment the next day.
1. Photocopy of Birth Certificate
2. Permission letter from your respective parish
(the nearest church where the family resides)
3. List of names of godparents (maximum of 5 pairs)
4. Baptism Form from their website
I was given one free (or two, I don't remember) booklet for the Baptism Rites but I purchased more so I could give a copy to each godparent. One booklet costs P35.
The link above will actually provide you with straightforward information. I had no trouble at all with booking the schedule and coordinating with their office. After visiting their office and submitting the fee and requirements, we were good to go.
Function Hall, Rufino, Bay 3
McKinley Road, Forbes Park
Deciding on a venue was tricky. I initially planned having the reception at Max's The Fort since it seemed like a good option. They have baptismal packages which would make the whole thing hassle free. Unfortunately the package that I wanted was out of my budget and my husband preferred to have the event catered instead. I did a lot of research and found that most event venues were either expensive or far from the Church. While I was at the Church settling the payment for the baptism I asked if they knew any venues nearby. Lo and behold, it turns out that the Church had a newly renovated function hall! I was referred to Alice and she discussed the details with me.
The function hall is divided into three parts, and each division can accommodate up to 100 people. The place was spacious and neat and I just thought to myself, "This is it". The available bay at the time was Bay 3 and the rental fee was P7,500, inclusive of their sound system. You can actually rent two or all of the bays at a time depending on the availability.
The catch though is that there is a security bond that you will need to pay which is, of course, refundable after the event. The bond is a whopping P10,000! I had to make sure that the caterers and stylists followed the venue guidelines to make sure I got the security bond refunded in full. After the event I just gave Alice the receipt of the security bond and then she processed the refund within a week. When I came back she issued me a check for the full amount and I was able to have it encashed at a nearby BPI branch. Another downside is that you cannot use tape or thumbtacks for decorations which may prove to be challenging for stylists.
If you decide to rent their function hall, make sure you always double check everything with Alice. She tends to be moody at times and sometimes she does not pay attention so whenever we meet I always go over every detail with her. She is nice though and she actually referred me to a caterer.
I am clueless about caterers so I was not familiar with Queensland when Alice referred them to me. I did some research and found that their packages were reasonable, so I gave them a call and I was accomodated by Bebz Cabardo. He emailed me a package of information which included menu selections and fees. It was pretty detailed and the information provided already gave me an idea as to how much I would spend altogether.
They offer food tasting sessions at Ysabel's Garden, Las Pinas where you can taste their "best sellers". Registration for food tasting is free for the first two people then P200 for companions. This will give you the opportunity to meet your contact and have them address questions or concerns.
I ended up making my own set menu which cost P245 per head. It consisted of Carbonara, Roast Beef with Mashed Potato, Chicken Flambe, Pork Spareribs, Grilled Dory and Buco Pandan Salad. The package included plain rice then I requested bottomless iced tea and mineral water for drinks.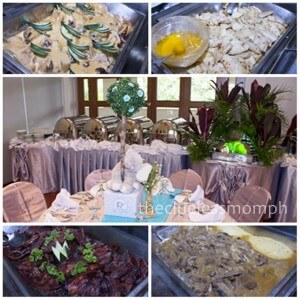 Caterer setup
All in all, I ended up spending around P24,000+ for 80 pax, inclusive of tables and chairs, 10% equipment usage fee, and delivery charge. Queensland is pretty easy to work with and my contact Bebz always responded to my emails and acknowledged and reviewed everything I requested. Plus, almost all of my guests gave positive feedback about the food, so I may consider hiring them again for future events.
Tip: The caterers do not bring takeout boxes for leftovers, so be sure to bring your own! We had lots of leftovers because only about 60+ made it to the reception.
www.facebook.com/cuteprints
Hiring a stylist was never part of my plan, but I couldn't resist doing so when I saw pictures from other baptisms which were themed, colorful and dainty! I wanted a baby elephant-themed, blue color motif for the event but I had no idea how I wanted it to look like.
I scoured the internet for local event stylists who carried the style I was looking for and made calls and sent emails. I was so disappointed at first because some stylists charged too much, it was just unreasonable.
Queensland also offers styling services and based on the photos on their Facebook page they are really good, however, the stylist was quite difficult to contact at the time and I had been trying to chase her for about two weeks. Furthermore, their initial fee for styling is at about P10,000 which does not include any decors, props or materials yet, and I found this a bit too much for my budget.
Eventually, I stumbled upon Cuteprints on Facebook and just loved their style. I sent an email to the owner Loida Yu and explained that I was on a tight budget. She made a proposal which included the event styling, dessert table setup, decors and personalized candies and chocolates, which cost P14,500.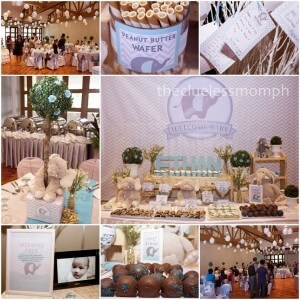 Some styling details
I was extremely pleased with the outcome of the decorations and dessert table. I'm just amazed at how Loida was able to execute everything so well without even meeting me and discussing the plan in person. All we did was text or email each other, but I trusted that she would do a good job based on her previous work. She takes the time and effort to style everything to the very last detail, and I have to say it made the event memorable to me.
If you're looking for a stylist you have to checkout Cuteprints, I promise you will not be disappointed!
CAKE AND DESSERTS
Chef Doks
Chef Doks is my brother, and he is pretty good at what he does. The recipes he uses are recipes from my grandfather who used to run a bakery back in the day. He supplied the cake and the other desserts for the dessert table setup (brownies, cake pops, cupcakes and elephant shaped gingerbread cookies).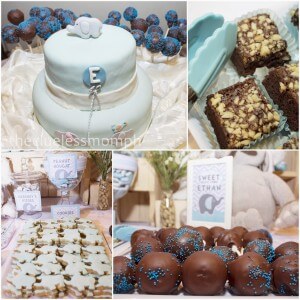 Cake and desserts
I also had him bake separate batches of baby themed gingerbread cookies for guest giveaways.
My brother did not charge me for the desserts, but if you would consider ordering from him you will find that his prices are very reasonable. He specializes in rainbow cakes, cupcakes and brownies. You have to try his brazo de mercedes, too!
GODPARENTS' GIVEAWAYS
While researching baptism giveaways I stumbled upon a mommy blogger who ordered Papemelroti Ivy Crosses as giveaways and I thought of getting the same thing too. The Ivy Crosses, to me, were perfect and I did not consider any other options. I keep forgetting her name and blog, though. If you're familiar with her post please let me know the link so I can credit her!
I visited the Papemelroti website and found their contact numbers then gave them a call. I was asked to call Charo at 412-6487 or 374-2442 for inquiries. After speaking to Charo she asked me to send her an email with my orders. I decided to get 11 Ivy Crosses with boxes to be picked up at the SM Southmall branch. I spent a total of P1,107 which had an additional 10% rush charge because I had them done a week before the event. After depositing the payment I was able to pickup the items within a week.
PHOTOGRAPHER
My brother-in-law who is an event photographer (Ras Photography) was supposed to cover the event for free. Unfortunately, he had another event booked that day so he asked one of his friends to cover the event instead. I did not bother contacting the photographer because I trusted that my brother-in-law hired someone experienced, so I just asked him to make sure the photographer arrived at the event on time.
The photographer did a decent job, all the photos were neat and well lit. I had him give me a copy of all the shots in their raw format so I can edit them myself.
Since the photographer could not come to my house for pre-event photos, I decided to take them instead. I used to be an event photographer with my husband, so I was confident that I could take decent shots.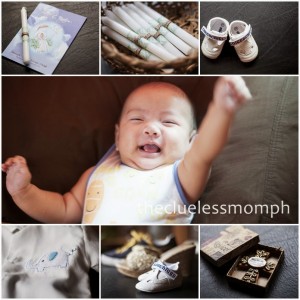 My shots
CANDLES
(DIY)
Like most moms, I decorated our own candles. I simply bought a pack of candles from the supermarket, a roll of blue washi tape from Hey Kessy and two bundles of twine from Papemelroti. With some glue and creativity, I came up with these pretty candles.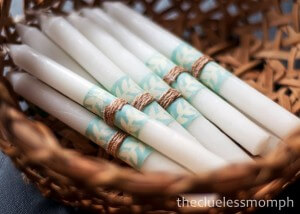 Washi tape is not cheap, so you can use ribbons instead if you're looking save money.
Whew! That was a pretty long post! I really do hope this information was useful and that it would help you plan your own child's baptism. If you have any questions, feel free to ask!