It's been a while! I'm currently working on a LOOOOONG post about my son's first birthday suppliers and I'm only halfway through because I've been so busy. I know it's my same excuse every single time, but come on, we're moms!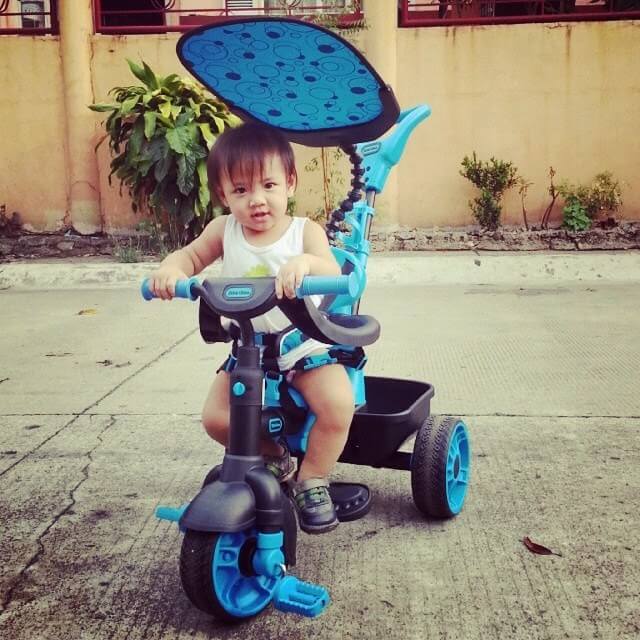 My son being adorable.
So anyway, I couldn't focus much on blogging lately because I have to take care of my son full-time since my yaya (nanny) walked out on me. She was the first yaya I ever hired and honestly, she was good. She was always proactive and she didn't require as much supervision. What I didn't like about her was that she had this nasty attitude where she would always make snide comments while she's next to the person she's making fun of.
"Naku si Mama mo hindi nanaman daw magkakanin! Haha sige panindigan niya lang yan!"
(Your mom's not going to eat rice again! Haha she should stick to that!)
I was right next to her when she said that. I was avoiding rice at the time because I was watching my weight as I was starting to gain dramatically. She did this to other people too. It became so annoying but I had to put up with it because I knew how hard it was to come by good help. One weekend I decided to let her take her day off because I needed her to be around the following weekend for my son's first birthday. She left on a Saturday evening then promised to be back by Monday morning.
Then she pulled off a classic.
She texted me Monday morning claiming she couldn't return yet because she had to bring her son to the doctor. I had to give her the benefit of the doubt, she used the "my child is sick" card and it would be cruel of me to accuse her of lying. Long story short, she didn't come back and she spread stories about how I would make her starve and that I was hiding the coffee. Seriously? We always had food in the kitchen and I always bought coffee and left it on the dining room table. Why would I hide the coffee?? It turns out that the real reason why she did not come back was because she was offered a higher pay at another household. I couldn't compete with that, so we just decided to let her go and look for a new yaya.
It's been three weeks since and we still haven't found a new yaya.
My husband and I decided to "wing it" for now until we could find one. It's been pretty tough because we both work full-time and we both work night shifts – which means we both need to sleep during the day. What's more is that our son is now more active than ever and he refuses to be left in his crib. He has this urge to always walk and follow us around the house even though he's not used to being on his feet yet.
So how do we manage surviving without a yaya? We take turns looking after our son. I work from home from 9PM-6AM so right after work I look after him – feed him breakfast, wash and prepare his bottles, give him a bath and cook lunch. He tends to wake up earlier than 6AM so I let him watch some nursery rhyme videos on our iPad while I finish my shift. While I'm on baby duty, my husband sleeps from 6AM when he arrives from work until about noon. After lunch and washing the dishes, we switch and I get to sleep until about 5PM. My husband then starts to prep for work and leaves at around 6PM. I put my son to sleep at around 7:30PM but sometimes he doesn't fall asleep until 8:30PM. Once he's asleep I start prepping for work. If he cries in the middle of the night I take a real quick moment to put him back to sleep then get back to work.
Has it been easy? Absolutely not. But these things happen and we need to adjust, even if it makes us twice as tired as before.
I have to say though that being "yaya-less" has given me the chance to bond more with my son. Ever since he turned one, he's become more affectionate but has also entered the separation anxiety stage. I'm glad that I am able to address his needs at this stage and that I am able to realize his changing needs as well. For example, as I mentioned earlier my son has this urge to walk all the time. Here in our house there really isn't enough room for him to do that, so his yaya just lets him stay in the crib which makes him cry and fuss a lot. When the yaya was gone and I took over, I realized that I needed to find a way to let my son practice his motor skills so he can start walking. I started moving furniture around to make enough space for my son to walk around and play. Ever since then we has improved dramatically and he isn't as fussy as he used to be. He enjoys the freedom to walk and play outside the confines of his small crib.
Do you think my yaya would have done the same thing? I don't think so. There's just these things that only us parents can and will do for our children. Now that I have realized this, I'm thinking of not hiring a yaya anymore. I've also grown to love the quality time I get to spend with my son. I guess that's what tops it all off, like the proverbial cherry on a sundae.
Was there a time when you had to manage without a yaya? How did it go?