Hey mommies and daddies, something awesome is coming your way!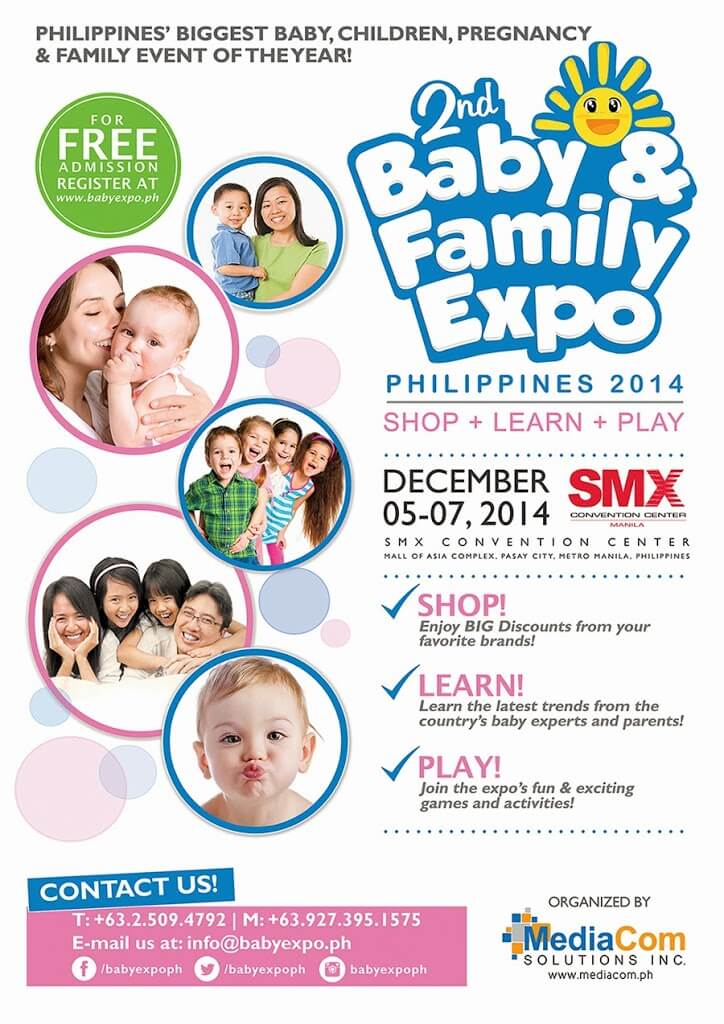 The 2nd BABY & FAMILY EXPO 2014 is the Philippines' biggest show for all baby, children and parenting goods, that will make your live easier!
Register for FREE and visit the 2nd BABY & FAMILY EXPO PHILIPPINES 2014 – Shop, Learn and Play! on December 5-7, 2014 at the SMX Convention Center Manila, as we launch a bigger and better show for you, with over 300 exhibitors, 400 brands, in over 5,500 sqm fully air-conditioned exhibition space, as well as 1st time international exhibitors from the US, Italy, Korea, Spain, Taiwan and more.
During this three-day family event, you will get to discover the latest products & services for the whole family, and avail of exclusive promotions from much loved stores and brands.
EXPO HIGHLIGHTS:
Toy Museum: A gallery showcasing fascinating toys and creations that will spark the awe in children and rekindle the inner child in every visitor at the Expo
World of Wonders: Children can enjoy fun and exciting rides and games at the World of Wonders
Magic Kitchen: Fun-filled activities specially organized to widen children's horizons will be set up at the Magic Kitchen, an arts and crafts station.
Baby Idol & Kid Idol Talent Contest: Babies and kids can shine bright like a star showcasing their singing, dancing, and acting skills.
Family Olympics: Moms and dads can show-off their diaper changing and grocery shopping skills together with their kids and a cake decorating challenge
World Family Summit 2014: The Summit will cover various topics, such as the 5 stages of family growth from maternity, newborns, infants, toddlers and children, as well as informative talks on marriage, relationship, parenting, education for children, money and health. Parents and expecting parents can learn the latest trends and tips from country's experts about pregnancy do's and don'ts, newborn and infant care, child development tips, parenting 101 and more.
Baby and Family Expo Awards Night: Outstanding celebrity families and entrepreneurs will be recognized through the Golden Family
Awards and ParentPreneur Awards, as well as the innovative Brands of the year Awards.
BABY & FAMILY EXPO PHILIPPINES 2014 will be an experience you wouldn't want to miss this year!
You can register as early now for free by heading to
http://www.babyexpo.ph/
. Upon registration you will be prompted to save your tickets for the event. You won't want to forget about it so register now!