As an asthmatic, I try my best to keep the house free of dust. No matter how hard I try though, dust is everywhere. My asthma is not easily triggered by dust though, but there are days when I my lungs go haywire and I'm stuck with my nebulizer for days.
When I found out that Ethan was exhibiting signs of skin asthma, his pediatrician set my expectations that there is a likely chance that he will have asthma, too. I was so bummed, because I knew he got it from me. So now I need to keep the house extra free from dust, for myself and for Ethan.
One of the most annoying things around the house that easily attracts dust is the electric fan. You know what I mean – when the blades and the back frame of the fan are full of dust and you can barely feel any air at all. I admit that I sometimes, or rather often, I put off cleaning the fan – because I hate it. You have to disassemble the frame, clean everything and put it all together again. It not the most fun chore in the world.
While I was at Blogapalooza 2014, a particular booth caught my attention because of this contraption.


This, my friends, is a Dyson Cool Fan.
I was drawn to this primarily because I remembered Ethan – he likes poking his fingers into fans. I've seen bladeless fans before, but never up close. Kurt, one of the sales associates was happy to tell me more about it and entertain my questions. It was not until I spoke to him did I realize that the Dyson Cool Fan would be an awesome appliance in a home of an asthmatic mother and son.
Let me tell you about Dyson real quick.
Dyson was founded in the UK by James Dyson, whose early inventions were products of frustration. He bought different brands of vacuums and was annoyed at how each an every one, despite being top branded units, clogged and lost suction. Fifteen years and 5,000 prototypes later, James finally introduced the Dyson Dual Cyclone – the world's first and only vacuum cleaner without a bag and no loss of suction. From then on James Dyson, along with his team of engineers and scientists continued creating technology to overcome everyday frustrations.
So in 2009, Dyson developed their Air Multiplier Technology and introduced the Dyson Cool Fan.
Getting rid of blades solved the frustration of unsafe grilles and choppy air. But high speed air creates noise, which can be difficult to disguise. Dyson Cool is engineered to deliver powerful, smooth air, without the nuisance of noise. – James Dyson
To better understand how their Air Multiplier Technology works, check out this quick video:
Neat, right?
I love how the Dyson Cool Fans aren't dust magnets – all you get is nice, cool air. And even if Ethan were to poke his head in there he'd be safe, though I wouldn't encourage it otherwise he'll keep doing it and next thing I know he'll try to jump through the entire thing as we'd have a circus in the living room!
Another thing I like about the Dyson Cool Fan is how much more easier it is to clean compared to conventional fans. You just have to wipe the surfaces – in and around – and you're done! Kurt also told me that the fans are designed to avoid overheating thus making them less prone to giving out early. These fans are made to last! They're also less turbulent, allowing them to consume less power than conventional fans.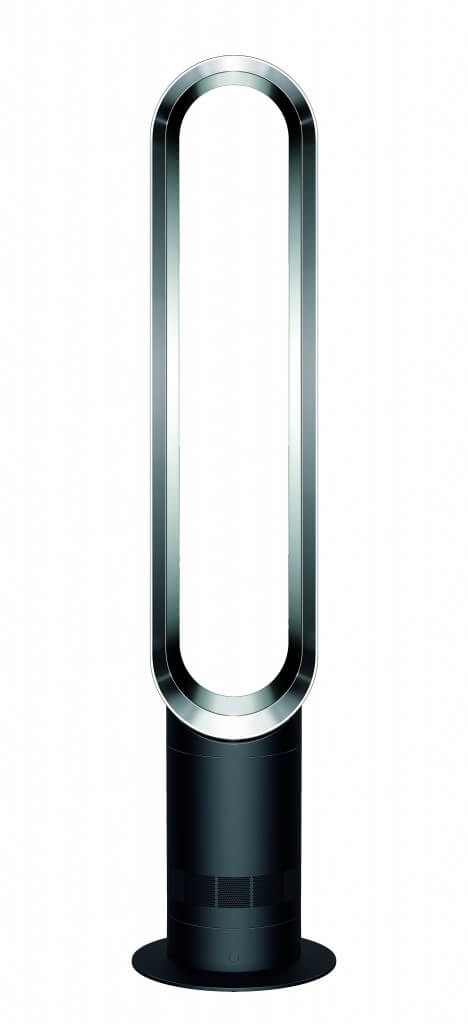 There is one downside to these Dyson products, and that is the price.
The AM01 10″ model which is a desk fan already costs **P19,950. Steep for a desk fan, it's not something everyone can afford. The Dyson representatives at the Blogapalooza presentation also admitted to the price being quite expensive compared to other products – there are already other bladeless fans that cost a lot less. However, Dyson is confident in the durability of their products and that they are made to last from ten to fifteen years. They also provide a two year guarantee for all of the Dyson Cool Fans.
I guess it boils down to two choices: Would you spend P9000 now to buy a Dyson Cool Fan – given all it's features – which will last for at least ten years? Or would you rather spend P1000 to P2000 every time your conventional electric fan breaks which, from my experience, happens almost every year or two?
My take: The benefits of the Dyson Cool Fan indeed outweigh those of the conventional electric fans. If I had the money to spare, I would buy one in a heartbeat. Unfortunately, even with an offered discount, the Dyson Cool Fan is out of my budget given my current financial obligations. That's doesn't mean though that I won't ever buy one, I just need more time to save up for it. I'm really looking forward to owning my own Dyson Cool Fan – cleaner and cooler air, no dust, no screaming at a toddler trying to poke his fingers at fan blades, and certainly no more tinkering with fan parts just to get some cleaning done.
What do you think of the Dyson Cool Fan? If you already own one, let me know how it's working for you!
**Edit: Ida of Whiteplanet Inc confirmed that the price of the AM01 10″ fan is P19,950, while the 12″ fan is P22,000.
Whiteplanet Inc is the exclusive distributor of Dyson machines in the Philippines. For further information you can reach them at 09172711543 / 7226587 / 7274092 loc 123 (Monday – Friday) 9:00 – 5:30PM or at dysonservice@whiteplanetinc.com and www.dyson.ph
Concept Store: Dyson, 3rd Level, Century City Mall, Kalayaan Ave, Makati