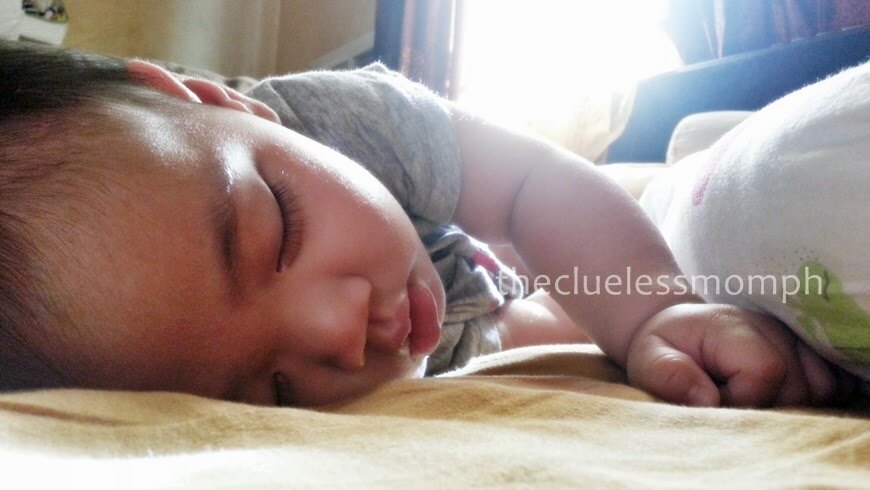 *pokes his cheeks*
I've been extremely sleep-deprived for the past few weeks because of my son's new sleeping pattern. He used to wake up every four hours just to drink milk then would immediately fall back to sleep, but now, believe it or not –
..he wakes up at 4AM to crawl around and play!
Well, I guess you figured that from the title.
Am I the only mom going through this? I'm not even sure if this is normal or not. Seasoned and veteran moms, I would appreciate any advice! Let me give you an idea about our daily routine.

7PM – I wash him with warm water, change his diapers and change him into pajamas.
7:30PM – I sit with him in our living room, feeding him a bottle of milk while singing to him.
8PM – Falls asleep. I move him to our bedroom. We co-sleep on the bed, it's a mattress on the floor.
12MN-1AM – He wakes up irritated, not really crying, asking for milk. Falls right to sleep without finishing the bottle.
4AM – He wakes up again. Before, he would ask for another bottle of milk, but now he refuses to drink and just crawls around playing with his toys or anything he can grab.
7AM-8AM – Somewhere between these hours he gets sleepy, sleeps for an hour or two
9AM-10AM – Feeding time
10AM-11AM – Bath time
11AM-2PM – Play time, Feeding time
2PM-4PM – He tends to take a quick nap some time between these hours
4PM-7PM – Play time, Feeding time
This pretty much sums up our daily schedule although it does tend to change on some days.
I've read in an article that I should be putting him down to sleep while he is still awake, but sleepy. This teaches him to fall asleep on his own, even when he wakes up in the middle of the night. The article is titled What You Need To Know About Sleeping Through The Night (Part 2), it is actually a three part article.
So, what do you think, moms? Should I be sleep training my son and teach him to fall asleep on his own? Let me know what you think!