Two weeks ago I was supposed to take Ethan to Fun Ranch, but I couldn't because there was a storm, then the week after we both got sick with stuffy noses. Last Thursday though, the weather was nice and we were snot-free (LOL) so I decided to finally take Ethan out for our 2nd visit to Fun Ranch Alabang so he could get active and meet other kids.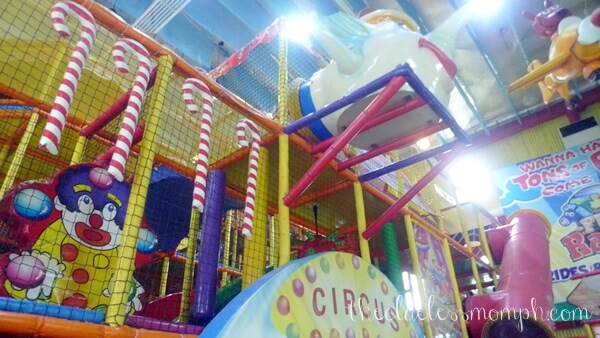 You gotta love Fun Ranch on a weekday. There weren't too many kids so the play areas weren't crowded, it was too bad though that there weren't any kids who were his age. Bummer, but he still had a lot of fun! The weekday rate is P190 for an hour, and the accompanying adult for kids below three get to enter for free (Oooooh, that rhymed). You need to have socks to be able to enter the play area, but if you're not wearing any or if you forgot to bring a pair, you can buy from them instead. They sell socks for both kids and adult at P50 each.
This was Ethan's second time at Fun Ranch, the first was a few weeks after his first birthday. He was thrilled when we entered the play area, it seemed like the place was familiar to him. After struggling to put on his socks (he was too excited to run around), we went straight for this "Memory" puzzle, where you have to find matching pictures. He doesn't quite get it yet, really. He just loved swiping the blocks.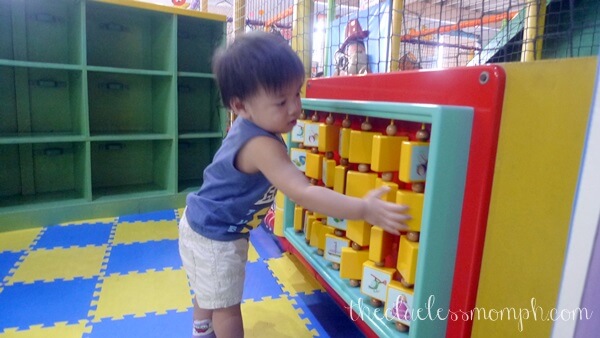 When he got tired of that we headed to the ball pit. I remembered how much fun he had there during his first time.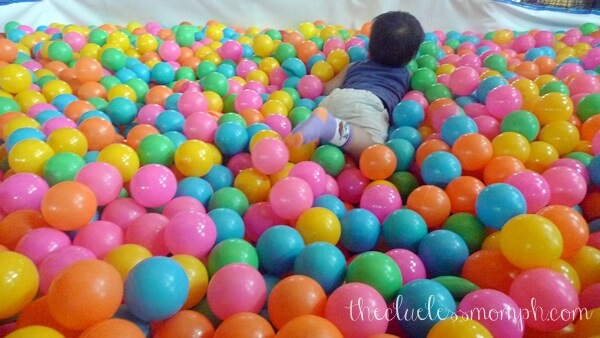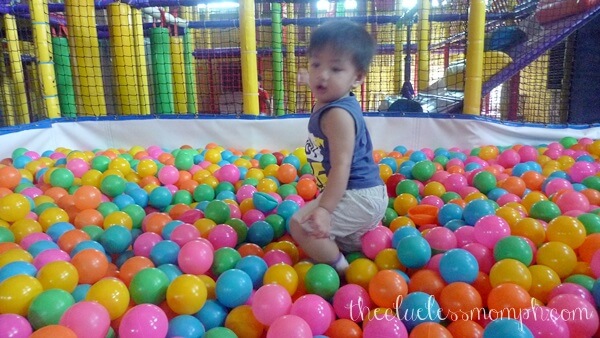 He didn't last long in the ball pit, after about a minute or so we was already bouncing towards me, motioning me to carry him out. It turned out he wanted to run around and climb up stuff. When he saw this slope, he immediately tried to climb on his own. Though he wasn't able to do it on his first try (I had to guide and push him up), he managed to climb without help on his second try!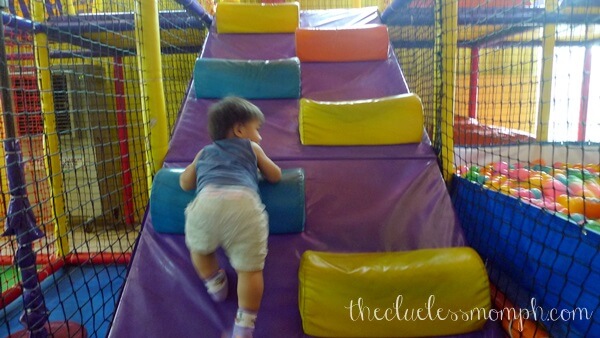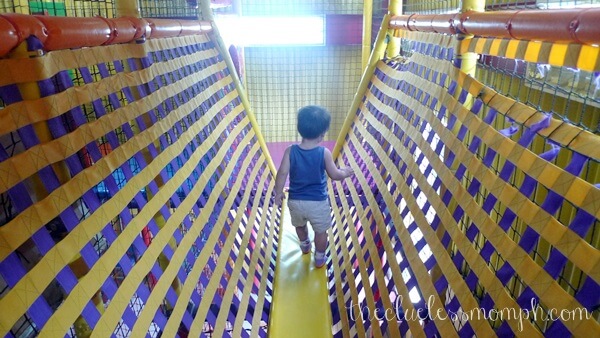 I was really pleased to see my son go through the obstacles by himself. He still needed help through tunnels, but he managed everything else. I loved how he'd smile at me, knowing he has accomplished something new!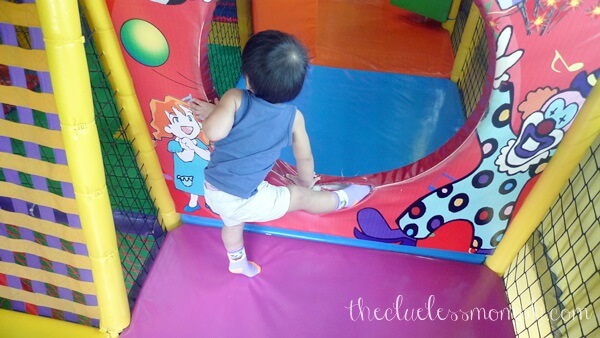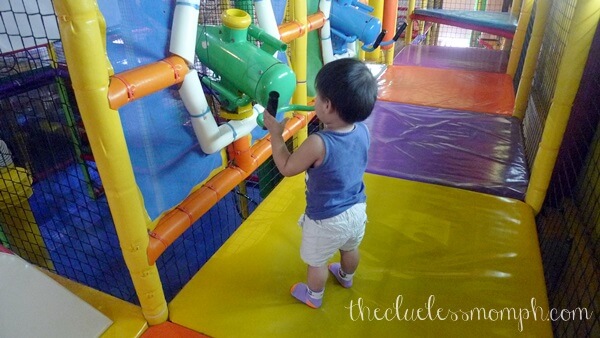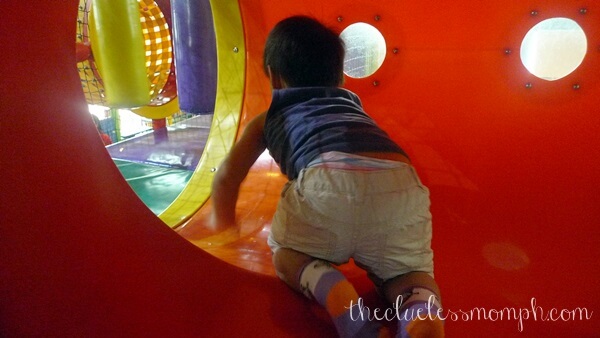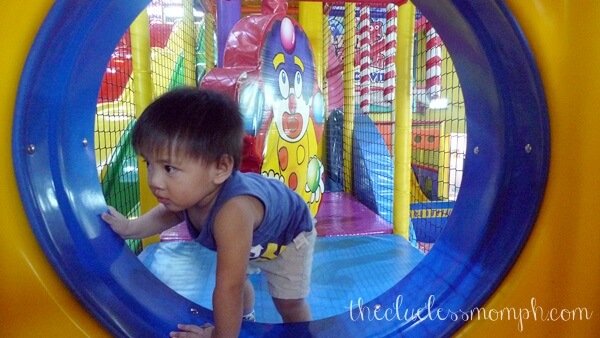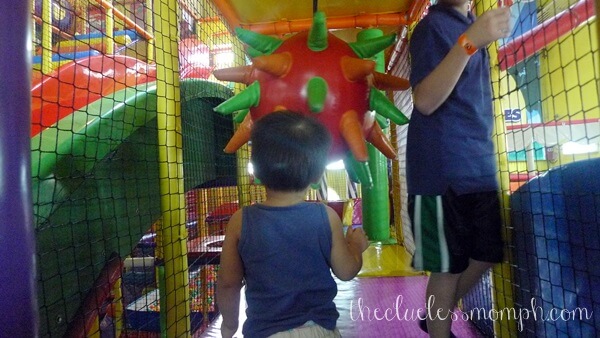 You know one thing I don't like about Fun Ranch? It's HOT in there. That's why I made Ethan wear a sando. I, on the otherhand, forgot my scrunchie, so my scary thick and long hair was all over the place. I think it got stuck a few times. And might have scared some kids. Yikes.
There are a number of slides in the play area, though not all of them are safe for young children. It's good that they have age guidelines for each slide. This slide was not recommended for toddlers, but Ethan still got to play on a small slide that I did not take a photo of because I was busy playing on the slide too.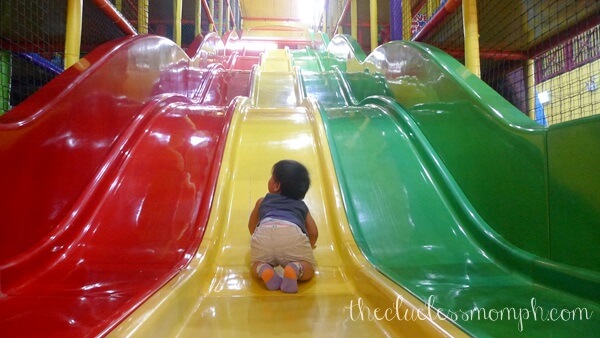 Later on, I let Ethan run around on his own and explore the area intended for toddlers, pictured below. I just sat on some rainbow colored stairs and watched him play, then I saw him approach these two young girls! The older kid wasn't so friendly though, she grabbed her sister's hand and lead her inside. Panira ng moment si Ate! So Ethan decided to keep himself busy with yet another puzzle that he could not understand (he just liked moving the knobs).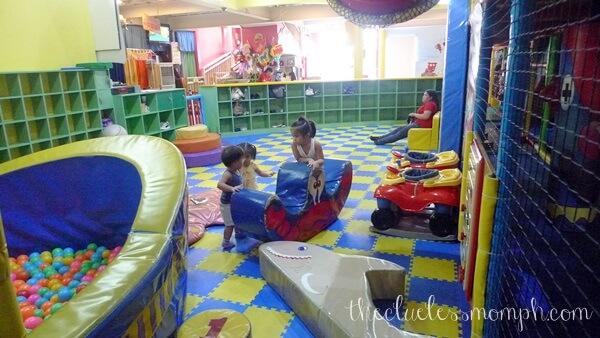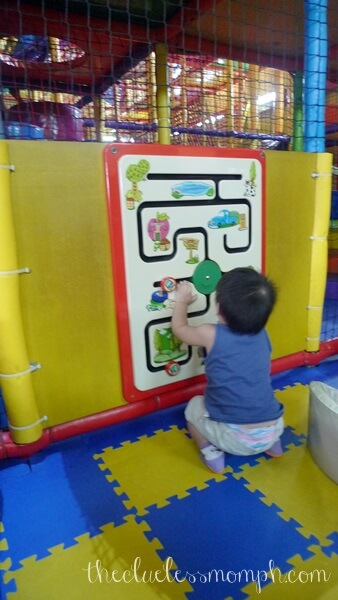 We took another run inside and he came across the mini basketball court. There were young boys shooting hoops and this little troublemaker decided to run around the court while they were playing. I tried to stop him but he kept running back inside to annoy the boys so he could have the court to himself.. and it worked! HAHA.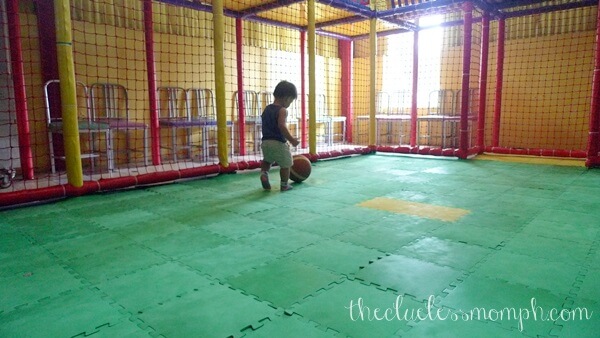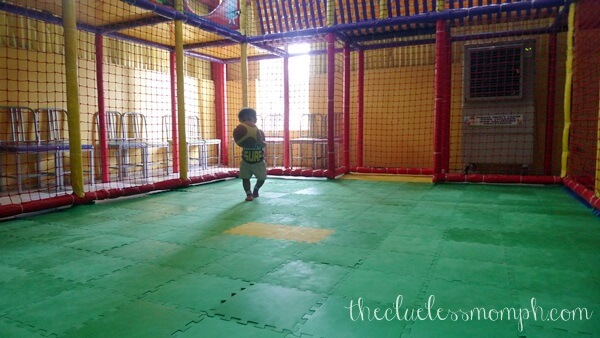 Since he couldn't shoot the ball, he was happy just running around with the ball in his hands. He was laughing out of excitement and it was so much fun to watch! Shortly after, I could tell he was already tired, so I changed his clothes, handed him a bottle of milk and we headed to a nearby mall for his hair cut, which I will blog about soon.
I'm glad I was finally able to spend some time with Ethan outside of the house for a change. Though I was a sweaty mess after all the running, crawling, climbing and picture taking, I had so much fun with Ethan and I was just glad to see how his motor skills have improved compared to our last visit. I think I might make this a weekly thing now, and for P190 for an hour it's not bad at all! You just have to make the most of it!
FUN RANCH – ALABANG Westgate, Filinvest Alabang, Muntinlupa City Tel:+(632)836-9387 http://www.kidsrulehere.com/ Email: funranch.westgate@gmail.com