Filipino celebrations, especially birthdays, aren't complete without noodles as they symbolize longevity. Gather your family around this yummy noodle dish on your next celebration, or perhaps tomorrow for lunch!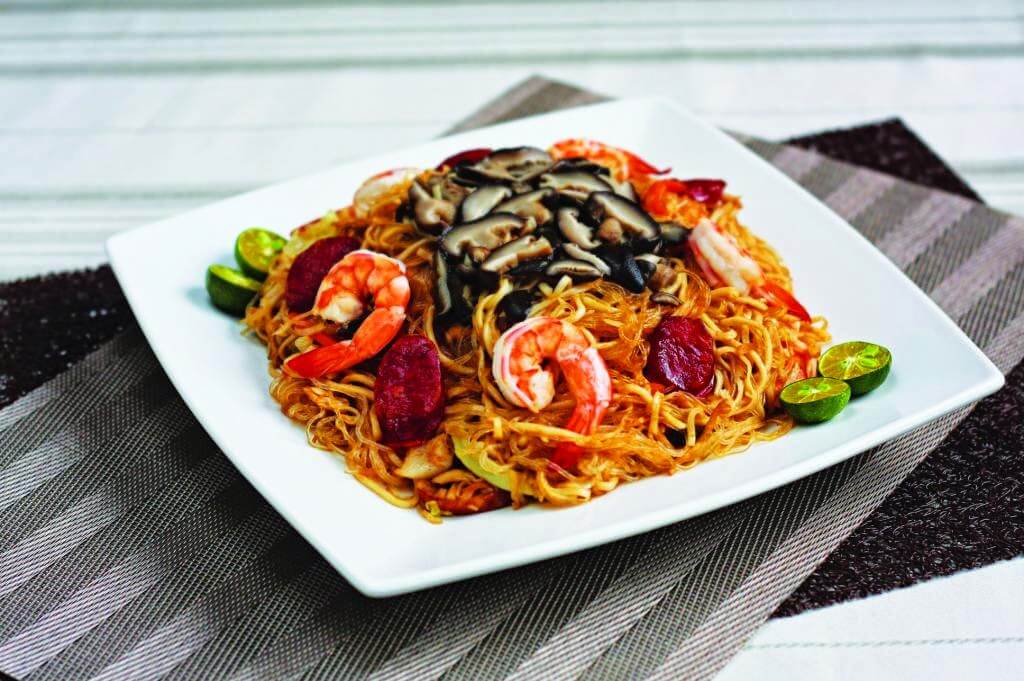 Click on Read More for the recipe!
GOOD LIFE BAM-I CANTON – SOTANGHON MEDLEY
Ingredients:
½ kilo pork, sliced
½ kilo chicken breast, boiled and shredded
5 pcs chinese sausage, sliced
½ kilo shrimp, shelled, deveined and heads removed
200 g Good Life Egg Noodles, cooked
300 g Good Life Vermicelli (sotanghon), soaked in water
2 1/2 cups chicken stock
1 pc small cabbage, chopped
2 pcs carrots, julienned
1 pc medium onion, diced
1/2 cup shrimp juice (extract by pounding shrimp heads & squeezing it till you get the juice)
1/2 cup soy sauce
1 tbsp garlic, minced
3 tbsp Jolly Claro Palm Oil
salt and pepper to taste
green onions, chopped
Procedure:
Cook Good Life Egg Noodles according to packaging instruction. Set Aside.

Sauté garlic and onions then add the sliced pork and cook until meat is no longer pink. Add in the Chinese sausage and chicken.

Add soy sauce, shrimp juice, salt, ground black pepper and chicken stock. Simmer for 5 to 8 minutes.

Put the shrimps, cabbage, carrots, and cook for 2 more minutes.

Add the soaked Good Life vermicelli, stir, then add cooked Good Life egg noodles and continue cooking for 3 minutes or, until the liquid is absorbed the noodles.

Mix well. Remove from heat and serve on a platter or bilao lined with foil. Sprinkle with chopped green onions and serve with soy sauce and calamansi on the side.
Serves 10
"Enjoy Good Taste with Good Life"
Good Life Products bring out the authentic taste and flavor of your favorite Asian-inspired dishes. Take your pick from the Good Life Noodle selection. Good Life Premium First Class Vermicelli is made from premium potato starch, thus it is firm to the bite, shiny and crystal-like. Good Life Egg Noodles is the better choice of Pancit Canton. It is made from wheat flour and eggs and is steam-dried, not fried that's why it is healthier! Plus, it yields more than the ordinary canton noodles. Lastly, Good Life Bihon is a staple for well-loved Filipino celebrations.
Other Good Life products include Bread Crumbs, Oyster Sauce and Sesame oil. Good Life is available in major supermarkets and convenience stores nationwide.
Like Good Life on Facebook!