If there's anything else I'm clueless about besides motherhood, that would be make up. No matter how many video tutorials I watch, I just suck at applying make up, especially doing brows. Earlier this year I overplucked my brows and looked ridiculous for the longest time, good thing I work from home otherwise I'd be forced to learn how to fill in my murdered brows, which I can assume would not go well.
So I grew out my brows for months and they turned into this hideous shapeless mess. I decided that I would finally have my brows done at one of those brow salons I've read about online. After a bit of research I learned that the brow salon closest to me is Brow Lounge in Festival Mall, Alabang. I decided to finally pay them a visit earlier today.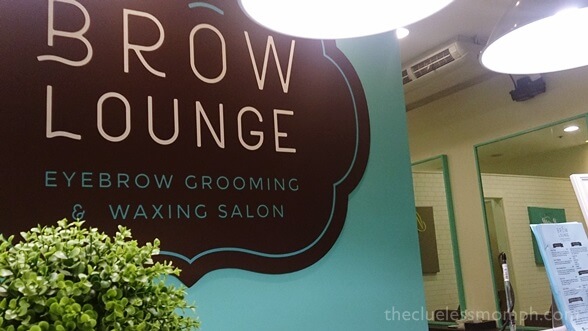 I was in a hurry today so I didn't have time to stop and carefully compose my photos. I just stole some shots as I was going through the salon. Typical me.
When I arrived the salon had just opened. It was clean and the ambiance was very welcoming. The staff who assisted me at the reception area was Rhea, she had me sign up and in a few minutes she ushered me into the salon.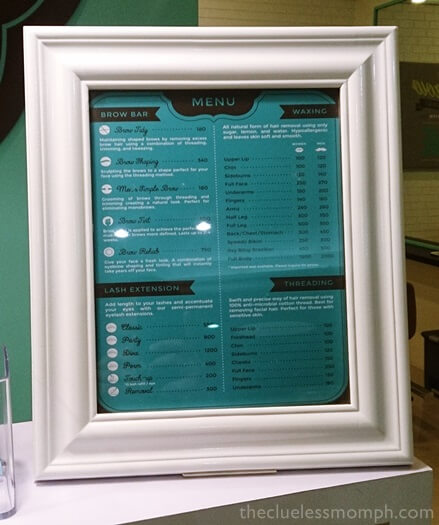 I wasn't able to get a clear shot of their menu, but as you can see they offer a wide variety of brow, waxing, lash extension and threading services. Rhea recommended just the Brow Shaping for me, which cost P340. Hmm, 'a bit steep' the cheap voice in me mumbled, but I decided to give it a try, after all, I was already there and it was way affordable compared to other brow salons which were hours away from me. So I went ahead with it and entrusted my unruly brows to Rhea.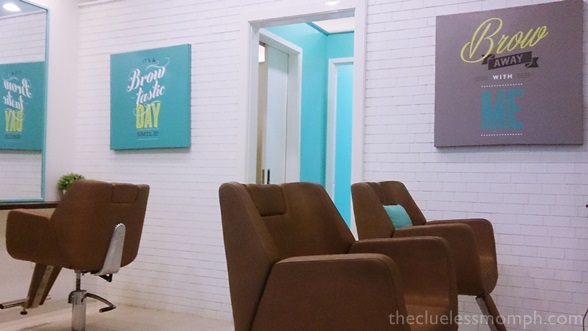 I loved the interiors of the salon, digging the wall displays though not a fan of the color combinations. Let's get back to brows, though!
Warning, ugly brows and scary eye bags ahead!
The whole process took about ten minutes. Imagine, I spent months with horrible brows and it was all fixed in ten minutes! Rhea was gentle when she was threading my brows although I still did wince in pain several times. She said my brows had no shape at all, but now that she worked her magic all I need to do is pluck any new or stray hairs to keep my brows groomed. Easier said than done especially after my previous brow massacre, LOL! So here is my before and after photo, though they were not taken at the same angle you can see the ridiculously obvious improvement!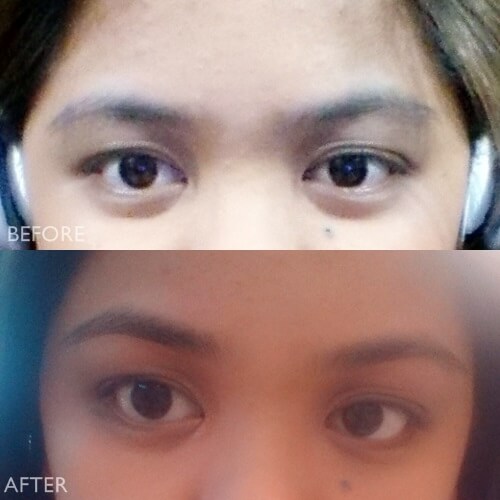 I was so pleased with the result! It was definitely worth the P340 I shelled out. Now that I know that Brow Lounge is good at what they do I'll surely keep coming back here for my, err, brow shaping needs.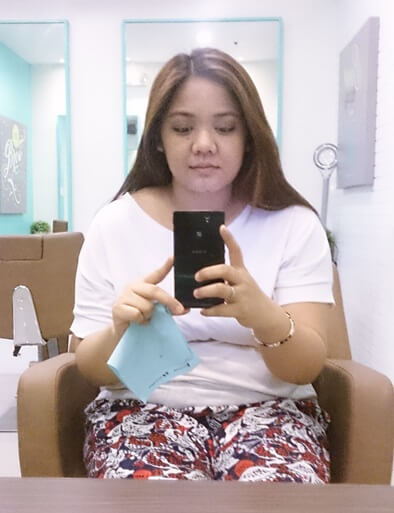 Hooray for my new brows!
Brow Lounge Manila (formerly Brow Bar)
For branch information, check them out here:
Facebook: Brow Lounge Manila
Instagram: @browloungeph