Before anything else, let me set your expectations that I am not a kitchen diva and I have never baked anything without the assistance of my brother who bakes cakes for a living. I love eating cakes, not making them. I used to say the same thing about cooking, but ever since I got married I took it upon myself to learn, otherwise we'd be eating corned beef and hotdogs for the rest of our lives!
Last October, I received a sweet stash of Maya Hotcake Mix from the Mommy Blogger Philippines Halloween Party. I LOVE PANCAKES! When I was pregnant with Ethan, I constantly craved them.
Weeks passed and I realized that these boxes of pancake mix were still in my kitchen cupboard, untouched. I couldn't find myself in the mood to cook pancakes, and if I did make some I was pretty sure we wouldn't be able to finish them all, and they'd just go to waste. My husband is not a big fan of pancakes, and I can't finish them all on my own.
Then a thought occurred to me. What if I baked them instead? Into muffins! It's not an original idea, I know, but I thought it was a perfect way to use my pancake mix stash.
My brother told me it was possible, the only problem was that I had no oven to bake them in! Drat, I thought. Then I remembered that I have a turbo broiler, I mean, it's technically an oven, right? So I asked my brother again, and he agreed that I could bake them in the turbo broiler but he wasn't sure about the temperature and time. At this point, I just told myself that I had enough pancake mix to experiment with, so what was I waiting for?
For the recipe, I followed the exact same recipe for pancakes at the back of the box . All you really need is water, eggs, vegetable oil and the hotcake mix. I used these laminated mini muffin cups to bake them in the turbo broiler. I filled the cups halfway and also added chocolate chips so that they wouldn't be too plain.
It took me three batches before I figured out the right temperature and time. My first attempt was with the Maya Hotcake Mix Chocolatey variant. I don't have photos of that attempt, but they turned out burnt outside and raw inside. Yikes!
So where did I go wrong? The temperature was way too high!
For the last two attempts, I used the Fluffy n' Tasty variant. I pre-heated the oven at 230 degrees for my second attempt and tried baking them two at a time. For each pair I made changes to the time and temperature, but I still ended up with Quasimodo-ish muffins. And yes, they were still raw inside.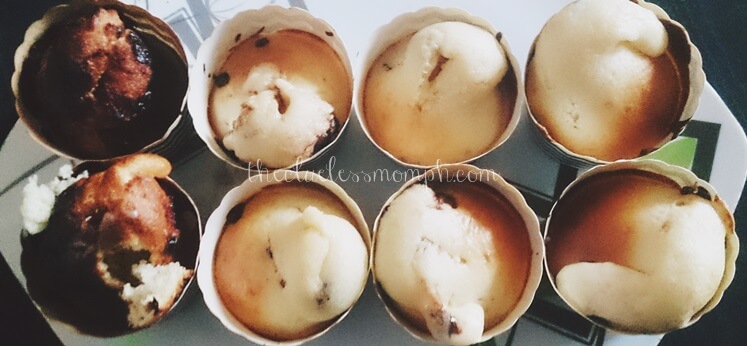 The ones on the far right were looking better, but I was still doing something wrong, and the temperature was still too high. Then I finally realized my mistake! Do you know that round mini-grill thingy they include in the turbo broiler, like where you can place your turbo chicken? I was using it when baking the muffins, placing them way to close to the hottest part of the turbo broiler! That's why the top was getting burnt and cooking way too fast!
For my final attempt, I ditched the round grill and placed a round pan instead at the bottom of the turbo broiler instead. This way I was able to leave some space between the muffins and the direct heat. This time I also baked them at 175 degrees for 15 minutes – and they turned out perfect!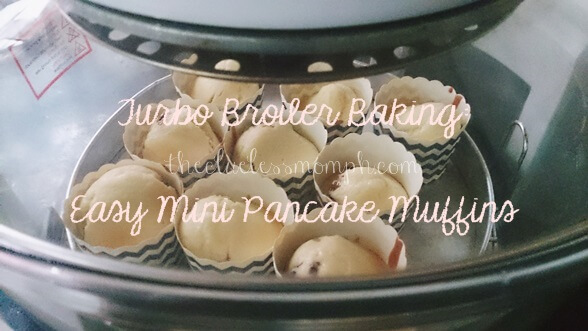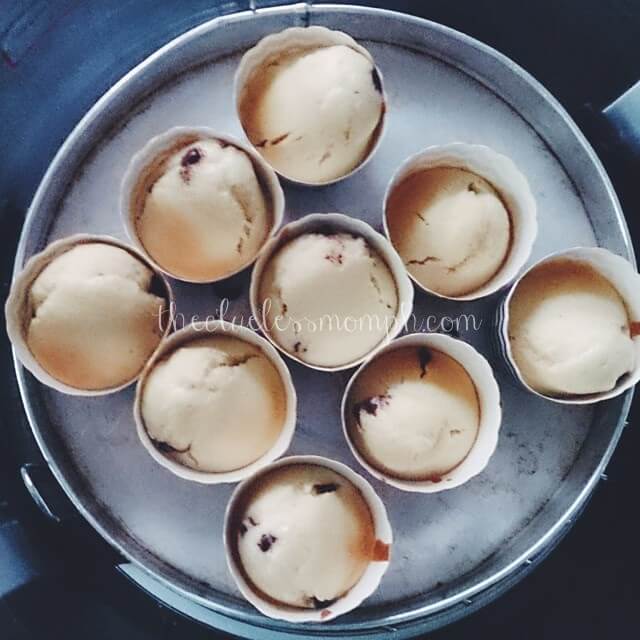 The shape still looks a bit weird, I know. It might be because of the distribution of heat or something. I honestly don't know, I'm making things up! But I did notice that the muffins placed at the side of the oven had tops that slanted to the side. So it could be the placement.
The muffins were cooked just right and they tasted good. They tasted like ordinary pancakes but they were nice and moist! The chocolate chips added a bit of sweetness to the muffins, too!
These muffins are perfect for breakfast on-the-go – you can even use fruits to make them sweeter or bacon bits to make them savory. ! I even read somewhere that you can freeze them in ziploc bags and them heat them up when you need a quick breakfast. I haven't tried it yet though.
I'm quite glad that this experiment turned out well, despite the fact that I am a clueless as a baker as I am a mom. LOL. I'm thinking of trying to make small cakes in my turbo broiler next time!
Have you tried baking in your turbo broiler too? Please share me some recipes!