Hi mommies! The past few weeks have been extremely busy for me because I was preparing for my son's first birthday. Now that it's over I'm happy to say that it was a great success!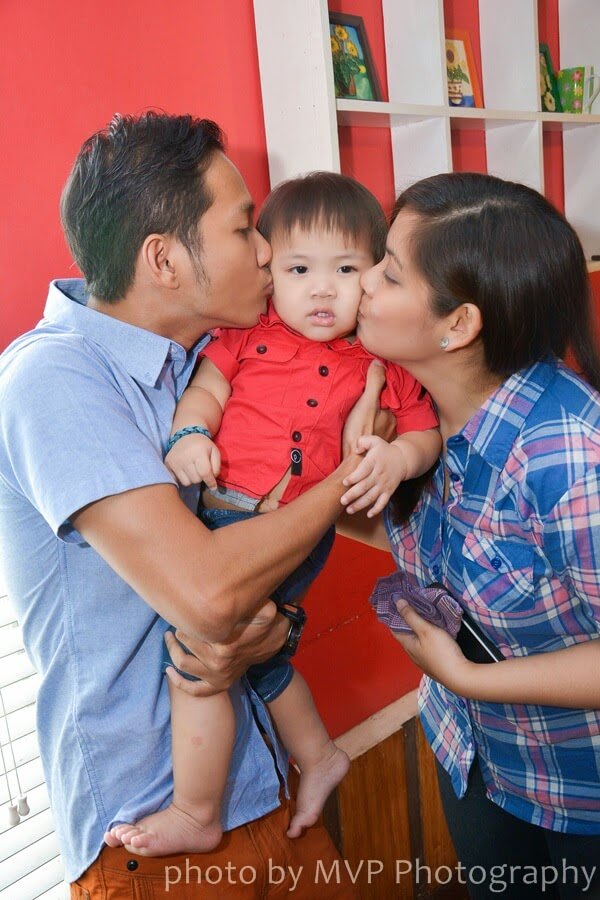 My favorite photo! Ethan's hair looks weird because I had to cut it the night before
due to an eye infection. Obviously, I didn't do a good job!
Like I did with his Baptism, I'll be sharing my experience and his first birthday supplier reviews for the benefit of other mommies who are currently planning birthday parties!
SUPPLIERS
Fun Ranch Alabang (Venue, Food, Balloons, Entertainment, Giveaways for Kids)
Chef Doks (Styrofoam Cake, Cupcakes, Giveaway Cookies)
DIY Venue Styling
MVP Photography (Photo Coverage)
GAMZ Photography (Photo Booth and Tarpaulin)
Since this will be quite a lengthy review, I've decided to divide it into two posts. This first part will consist of my reviews for all the services provided by Fun Ranch. The rest will be covered by my next post, so please look forward to that!

Venue

Since we are now based in the South, we had to look for venues within the Alabang – Las Pinas area. My husband and I decided not to hire a caterer this time and try something different. We wanted a venue that was kiddie-friendly – where kids can be kids. Not some fancy function hall. I was eyeing Shakey's but there weren't any Shakey's branches around the area that were big enough to hold parties. I also inquired at Shakey's Evia and they claim they only hold parties during weekdays, which was odd because most kiddie parties are held during weekends! So I had to cross Shakey's off my list.
Now if you hang out or drive by Westgate regularly, I'm sure you've noticed the big barn behind SnR. Yes, I'm talking about Fun Ranch Alabang. I never knew they held kiddie parties until I looked them up online. Eventually I decided to pay them a visit and inquire about their kiddie party packages.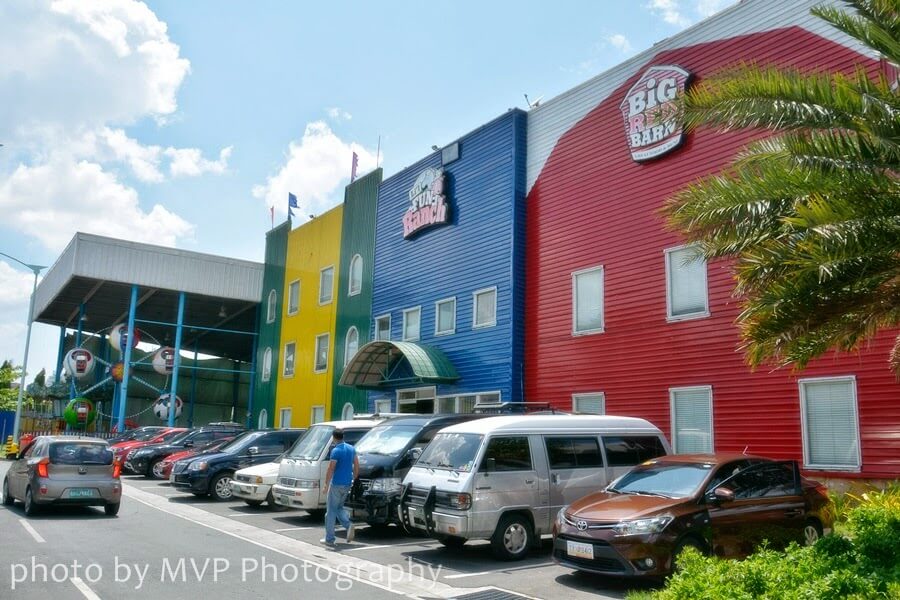 Party inclusions and freebies
I was assisted by Vener during my first visit to Fun Ranch and he gave me a leaflet with information to get me started. I would have loved to post a photo of the leaflet, but it's now full of scribbles and stuff you can barely make out what it says so I'll just explain everything as best as I can.
Update: I found a brochure with no scribbles! It's different from the one they gave me, though. But for blogging purposes I guess this will do.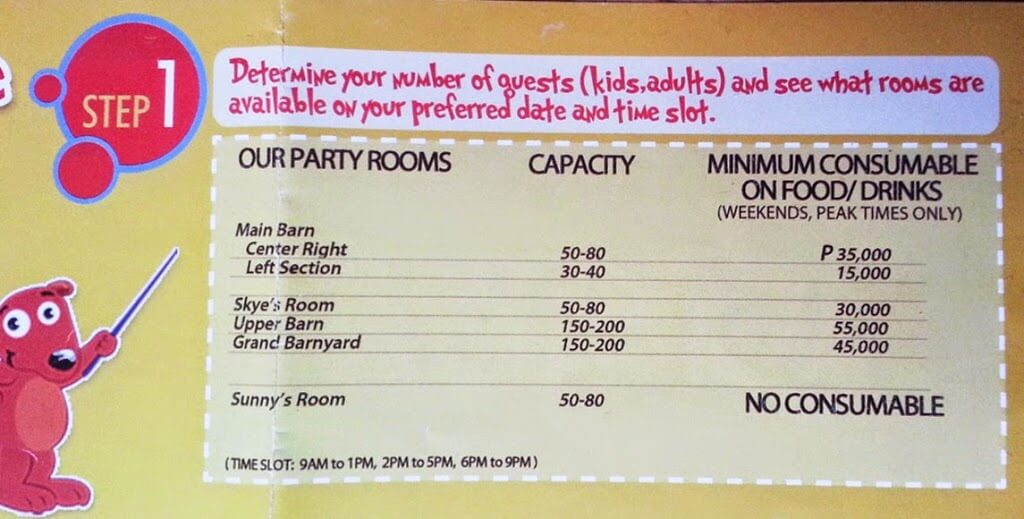 Fun Ranch Alabang has five rooms: Main Barn (80 pax), Skye's Room (50-80 pax), Upper Barn (150-200 pax), Sunny's Room (100 pax) and the Grand Barnyard (150-200 pax). Take note that the fee you pay for the venue is consumable for food and drinks (except Sunny's Room, at least that's what it says on the brochure). Weekend afternoons have the most expensive rates. We rented out the Main Barn on a Saturday between 2-5PM and it cost us P35,000. Also keep in mind that these rates are subject to 10% service charge.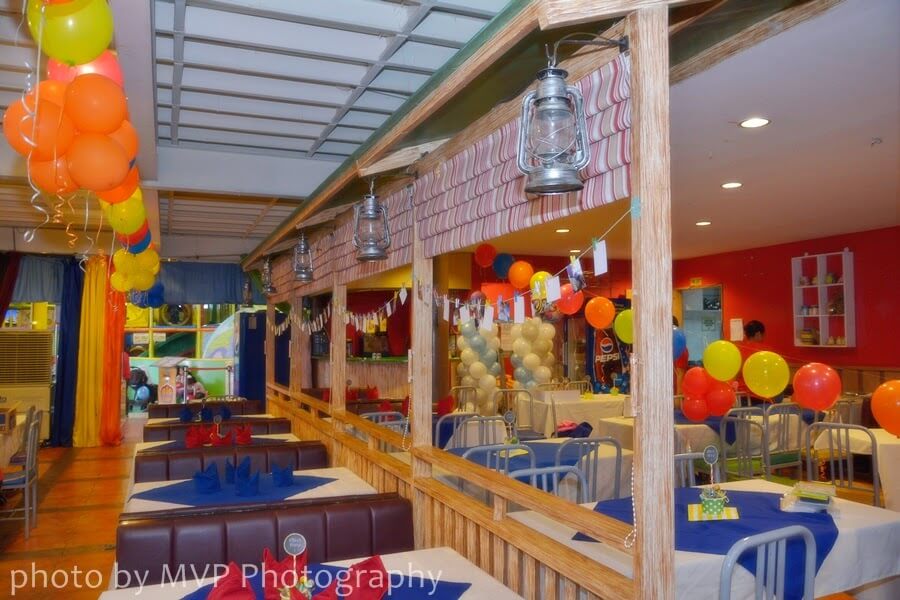 Main Barn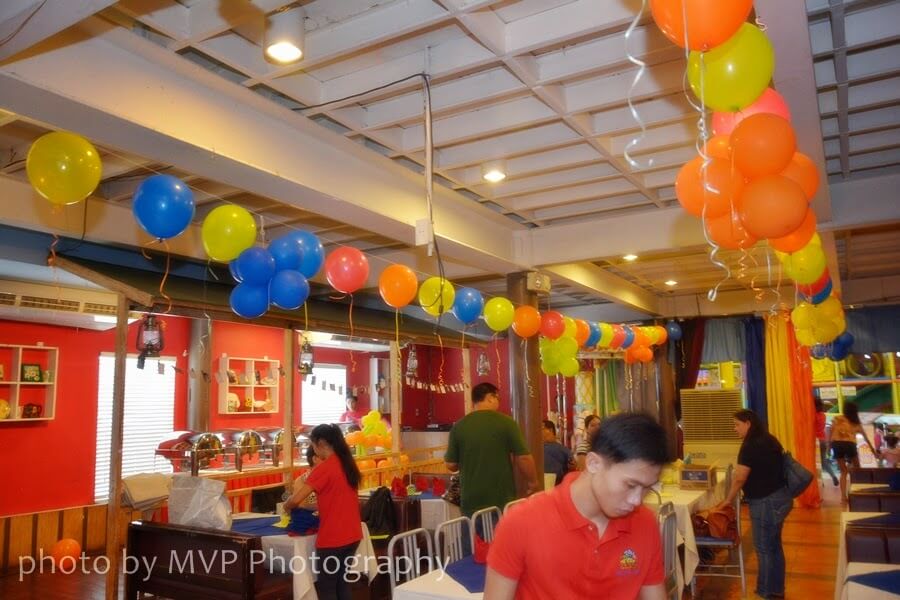 Main Barn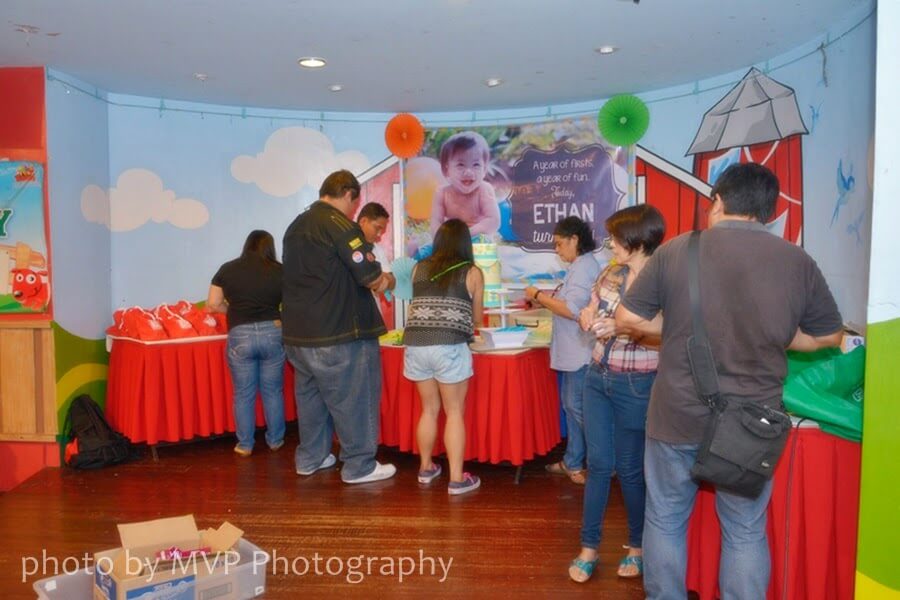 Stage, with relatives helping with the set up.
The Main Barn was definitely enough to fit up to 60 of my confirmed guests, but I'm, pretty sure more than 60 arrived. Venue wise, I really liked Fun Ranch. The Main Barn was spacious enough especially for running kids. It was clean and everything was neat EXCEPT for the area near the bar (where they prepared the drinks, non alcoholic of course)! I had guests sitting across the bar and we could see mops and cases of empty bottles and whatnot. Ugh, I had to ask them to move so that they wouldn't lose their appetite. Also some of the seats are worn out, but it wasn't an issue for me, just an observation.
Another thing I would like to point out is how the staff is strict with the schedules. Since our party was only until 5PM, we had to wrap up even before then because there was another party at 6PM and they had to start prepping. This means that while your party is still ongoing they will start asking some guests if they can start arranging the tables for the next party. Now, you might find this extremely annoying, being rushed and all, but in my case I couldn't blame them because our party started late – like almost an hour late, because most of my guests were late. Sigh. So anyway, that's another thing to keep in mind when you decide to hold your party at Fun Ranch.
Venue Rating: 4/5
The location was convenient, it was spacious enough for my guests and was kiddie friendly. Would I hold another party here? Nah, I guess once is enough.
Food

When I was researching about the food at Fun Ranch, I barely found any detailed reviews. I couldn't get any food recommendations so I had to rely on their suggested "Favorites" while keeping my budget within the P35,000 consumable rate.
Since the party was held in the afternoon, I decided to go for a merienda menu. They offer plated food options and buffet options for meals, so it really depends on how you'd like the food to be served . If you decide to have a buffet, the food can be ordered for 15, 30, 50 or 100 pax. For example, you can order 100 pax of one food then 50 pax of another as long as your total does not exceed the consumable rate, otherwise you will have to pay extra. For the kids, I opted for the plated menu, specifically Combo 2: Fried Chicken, Party Style Spaghetti (you can also opt for Carbonara), French Fries (or Popcorn) and Iced Tea. It costs P175 per combo meal, so I ordered 15 for the kids. This way their food gets served right at their tables and the amount of food is just enough for one kid.
As for the adults and the rest of the guests, I chose to go buffet style. Here's the list of food I ordered:
Carbonara (100 pax)
Chicken Cordon Bleu (50 pax)
Pork BBQ (100 pax)
Fish Fingers (50 pax)
Burgeritos (50 pax)
Bottomless Iced Tea (50 pax)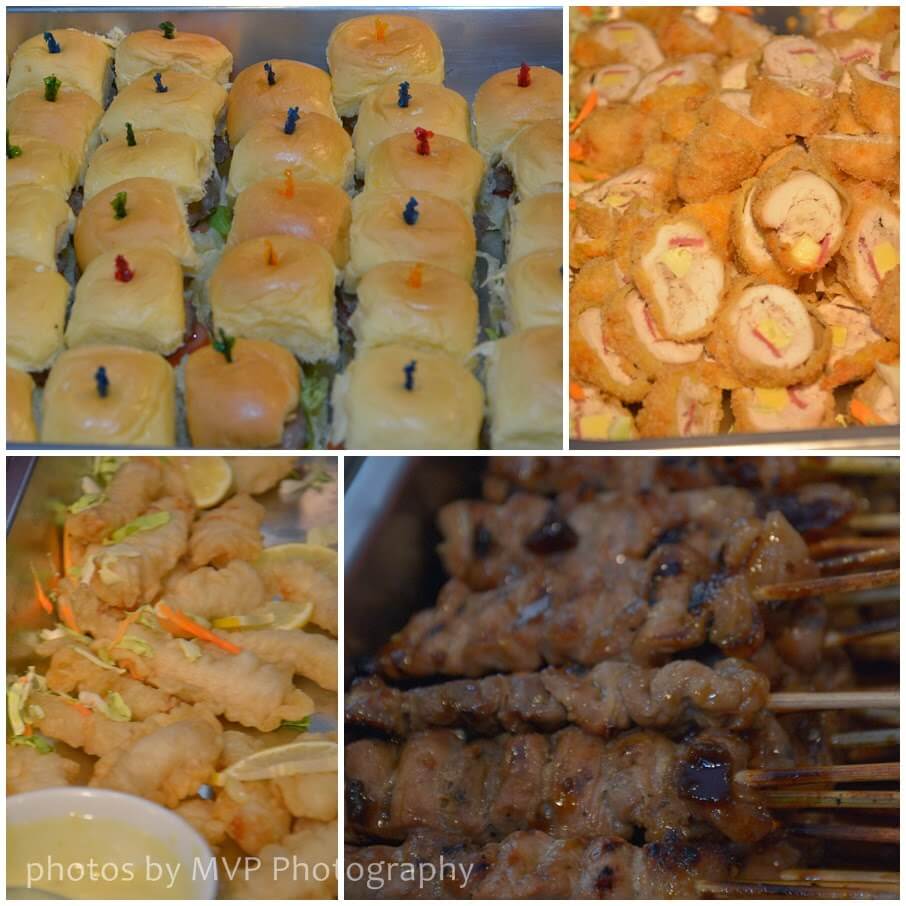 The food. We didn't get a photo of the Carbonara, though.
I have to say that all the food was "so-so". Most of the food was a bit bland, the Pork BBQ was quite good though. What I like about Fun Ranch when it comes to food is that they can refill in case you run out of food, for an additional fee of course. But hey, it beats the embarrassment of running out of food and letting your guests go hungry! There are certain foods though that they cannot refill on the spot like the Chicken Cordon Bleu, they will advise you which ones can be refilled during the party. Another thing I really appreciated was how the staff kept me informed if I was about to run out of food or drinks. For example, I decided to order only 50 pax worth of drinks and then just add more if I needed to. The staff did not just go around serving extra bottomless iced teas to everyone, rather they took note of how many were served and immediately informed me when they were closing in to 50, then they would ask my permission first before serving more. The same goes with the food. They made sure I was updated about how much more food we had. I was too busy talking to my guests that I didn't have time to take care of that, it's a good thing that they did it for me.
Fun Ranch also offers food carts like cotton candy, mini hotdogs, pop corn, ice cream, etc. and can be covered by the consumable rate. Unfortunately, I did not have enough in my budget to rent one, but I guess we had enough food already which was good enough for me.
Food Rating: 3/5
The service was great, but I can't say the same for the food.
Balloons
This was one of my major disappointments.
Before I continue, let me explain that Fun Ranch has this policy wherein they charge a corkage fee of P1000 for any services/products that you avail from other merchants. This only applies to services that they already offer themselves.
So anyway, balloons. I decided not to look for another supplier and just avail their in-house balloon packages instead. I was thinking, they're just balloons and all balloons are the same so it shouldn't be a big deal. Right? Wrong.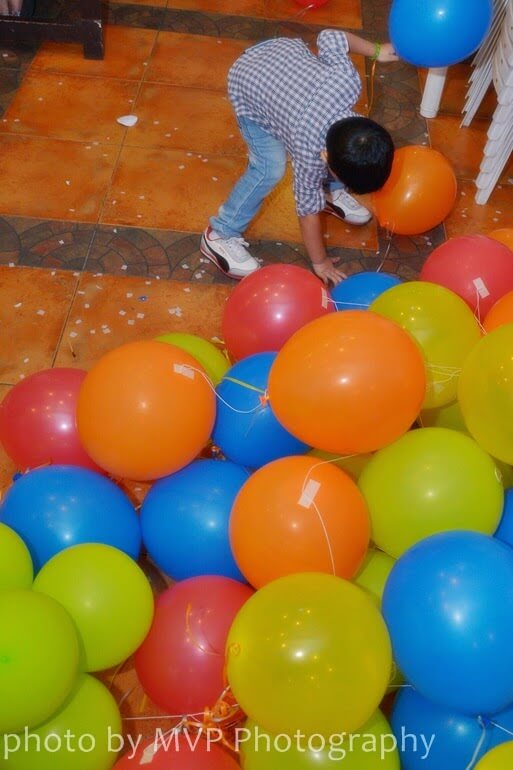 Their cheapest package was P5000. I actually found it to be expensive, but when I browsed OLX.com.ph for balloons suppliers they were charging around the same figure so I decided to stick with Fun Ranch and avoid corkage fees. I decided on the colors and tweaked the package to remove the balloon centerpieces and balloons on sticks so I could add more to the floating balloons. They even offered me a free mini balloon arch for the cake. During the party, my first observation was that the balloons were of poor quality. I mean, the colors weren't as bright and they easily popped. I know it's what balloons do, but so many popped during the party. I was glad I removed the ones from the table centerpieces because we had a lot of babies at the party and I didn't want the balloons popping in their faces! It was a major letdown, especially since we really didn't have a theme and I was relying on the balloons to make the place nice and colorful. There was also a pattern they were supposed to follow, but they didn't and just randomly strung the floating balloons together. Oh well.
Balloon Rating: 2/5
Low quality balloons for P5000? Never again.
ENTERTAINMENT
Fun Ranch offers a wide array of entertainment options, from mascots, face and nail salons to animal shows. I never realized that these things cost so much until I planned this party. Here's the list of activities and entertainment: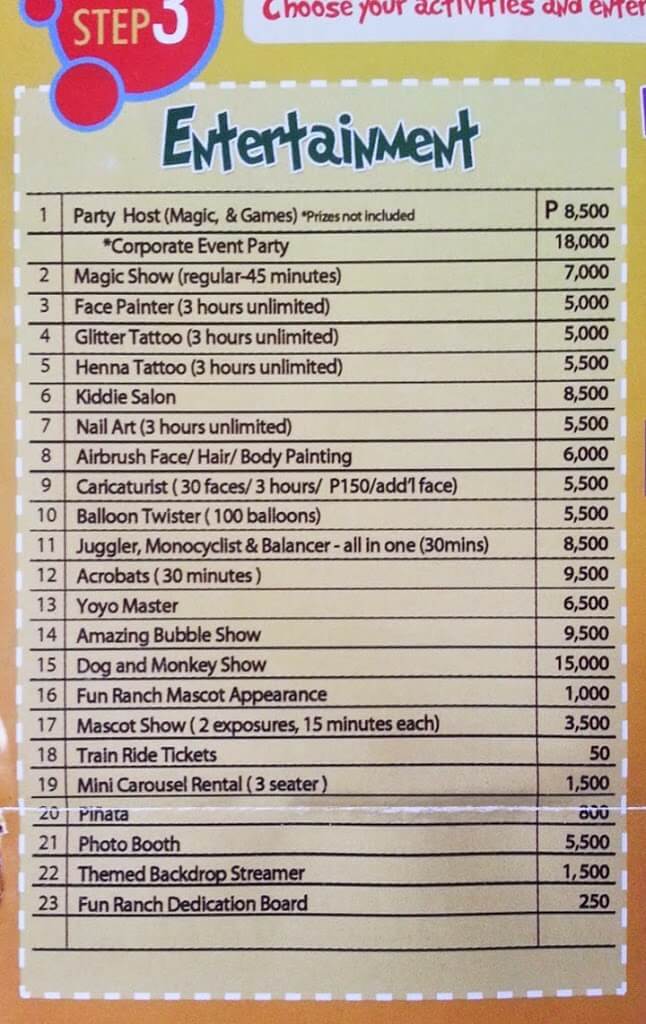 I chose the first option which included the party host, magician and balloon twister (not mentioned in the brochure) for P8500. I figured that with only three hours, a magic show and party games would suffice to keep people entertained.
Host. I forgot the host's name, my bad! But she was pretty good. She approached me before the party began and explained the program she had planned. What I appreciated was that she was able to adjust the schedule for all activities even though most of my guests were late. She was friendly, she smiled a lot and she spoke English well. The games she conducted were typical party games but she brought an interesting twist to each one. She managed to get my brother, Chef Doks, to dance. LOL!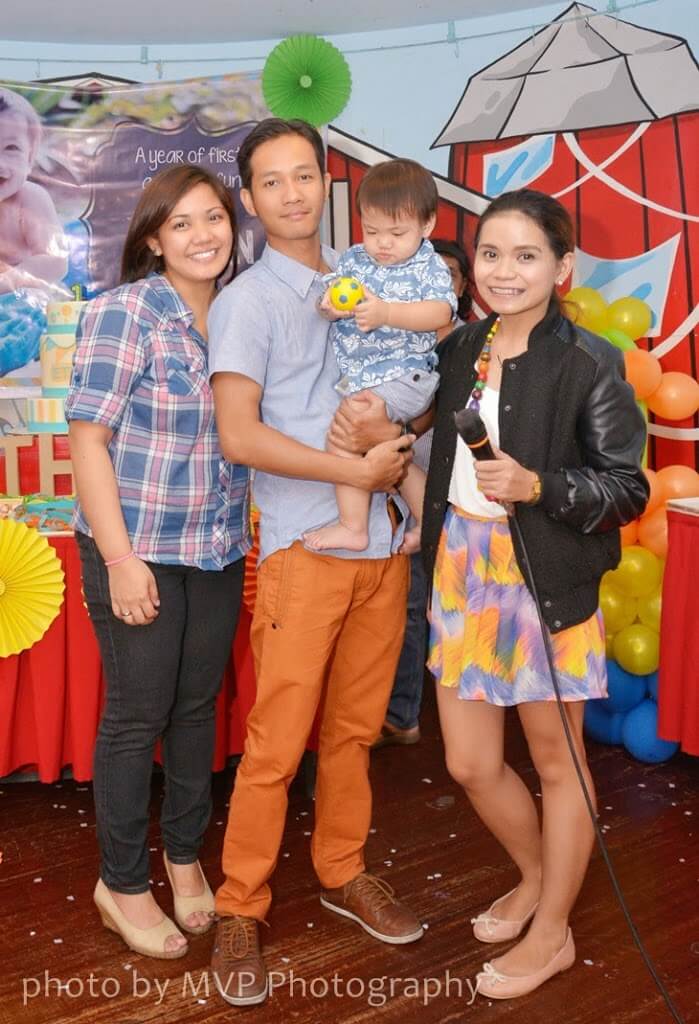 With the party host
Balloon Twister and Magician. I have to say, he was the highlight of the party. Most of the guests stood up from their seats just to get a closer look at his act. Even some Fun Ranch guests who happened to pass by stopped to watch. His tricks weren't mind-blowing, but were definitely entertaining. He also encouraged the participation of a few kids. I didn't realize that he was also the one twisting balloons earlier during the party. It helped keep the kids entertained while we were waiting for the other guests to arrive.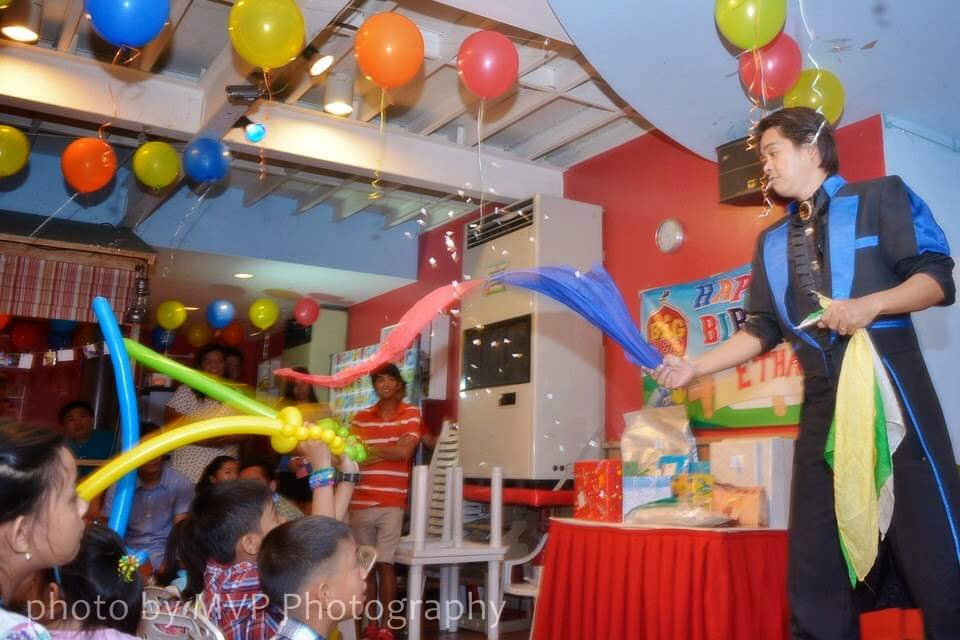 Entertainment Rating: 5/5
My guests were happy, that means they did a great job!
KIDDIE GIVEAWAYS
I have to admit that a week before my son's birthday I still had no clue what I would purchase for giveaways. Many people suggest going DIY with cheap finds from Divisoria, but I just don't have the time to go all the way there. I then realized that I saw sample lootbags at Fun Ranch, so I decided to avail those instead.
Fun Ranch offers two types of lootbags – a small backpack with goodies (P150 each) or a tote bag with goodies (P100 each). Actually, the goodies are the same either way, consisting of crayons, a coloring book and a random toy. I availed the tote bags and just added a pack of candies and cookies that we packed ourselves. The giveaway cookies were by my brother, Chef Doks.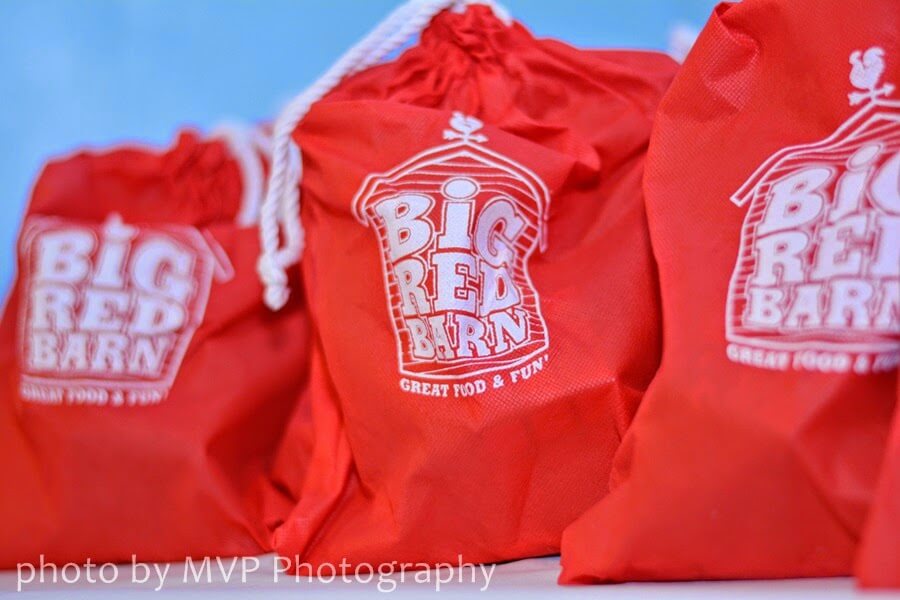 Tote bags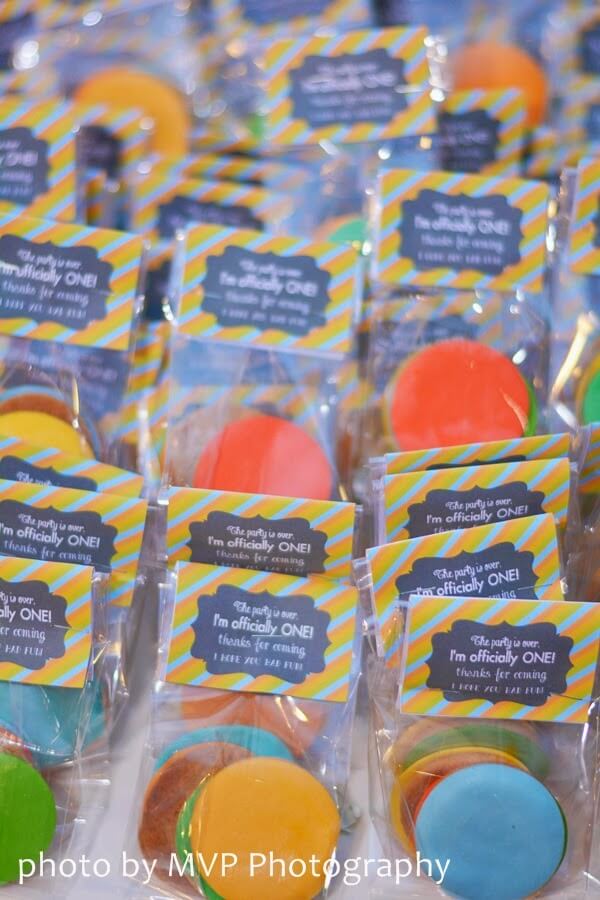 Giveaway cookies. Gingerbread cookies topped with fondant
Giveaway Rating: 3/5
The contents of the tote bag could be better, but I personally found them good enough.
That concludes my review for Fun Ranch. It definitely is convenient holding your party here since they offer a lot of services as a one-stop party venue, however, I personally feel that they could improve some of their services and products to make the whole experience better and not just "so-so". I guess the biggest pro here is the customer service provided by the staff. They were very accommodating and friendly.
I hope you all found this review useful. If you have any questions, feel free to leave a comment! Or better yet, try contacting Fun Ranch if you have specific questions.
Please check out my next post, because I'll be giving away a Fun Ranch referral slip which will get you freebies when you decide to hold a party at Fun Ranch! Do check it out!
Fun Ranch Alabang
836-9387
www.kidsrulehere.com