This is not a paid review. The product was a personal purchase and this post is my honest opinion of Human Nature's Bug Shield DEET-free Lotion.
Last year, I wrote about keeping my kid dengue-free with natural products and talked about Human Nature's Bug Shield Oil. I mentioned how I liked the product but found the consistency to be too thick for my son's skin and I also found the scent too strong.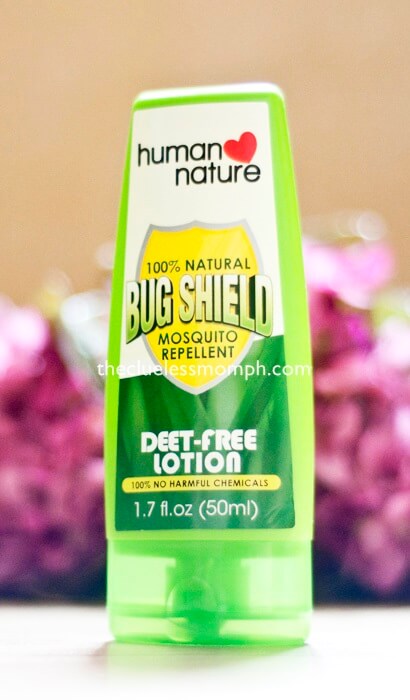 Recently, while doing some grocery shopping I remembered that the Little Troublemaker had a number of mosquito bites on his legs that morning, so I decided to grab some mosquito repellent. I was relieved to see that Rustan's carried Human Nature products and looked for the Bug Shield Oil. While scanning the shelves I noticed that they had Human Nature's Bug Shield DEET-free Lotion which cost only P99.75, and out of curiosity I decided to try it out.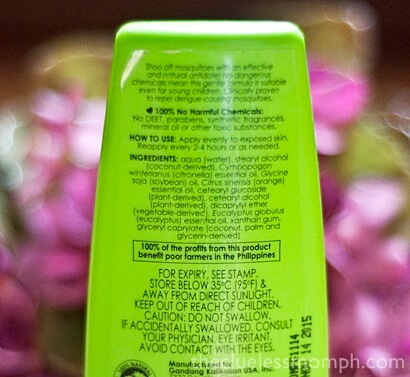 "Your trusted citronella insect repellant now packs an even more powerful punch against pesky mosquitoes with our improved non-sticky Bug Shield DEET-Free Lotion. Now infused with soy bean oil and eucalyptus oil for an added boost of protection and an even better scent! " -from the Human Nature website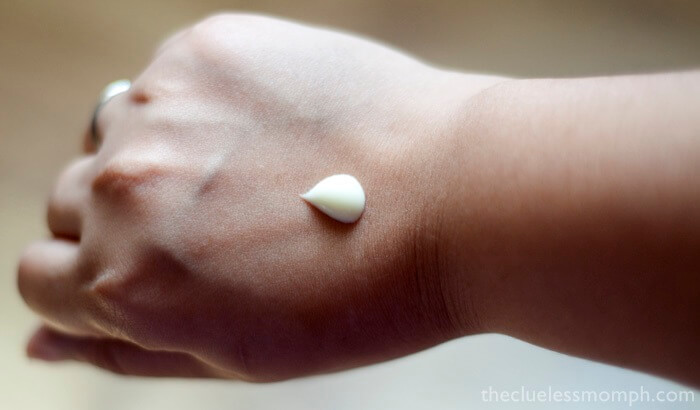 The lotion is very light and easily spreads, a little of the product goes a long way. I only used this much but was able to cover my entire arm. I only use pea-sized amounts for the Little Troublemaker's arms and legs.
The scent, while it still resembles that off the Bug Shield Oil, is actually a bit milder. Just a bit.
I've been using Human Nature's Bug Shield DEET-free Lotion on the Little Troublemaker and myself for about a week now, and I'm confident in saying that it works.
I work at night and when I'm at my desk I notice one or two pesky mosquitoes always – ALWAYS – hanging around. I seem to attract them more compared to most people. I don't like using insect sprays while I'm in the room because they make me dizzy and trigger my asthma, so I opted to use the Bug Shield Lotion until I was done working so I could spray the room after. After using the Bug Shield Lotion on my legs, which are the most prone to mosquito bites, I did not get bitten – not even once. Now I always have it at my desk in case the mosquito family decides to extract their revenge on me.
As for the Little Troublemaker, I apply the Bug Shield Lotion at night before he sleeps. Even though we have screened windows, a few mosquitoes still manage to get into the room. Like me, his chubby legs are most prone to mosquito bites, so on the first night of using the Bug Shield Lotion, this silly mom only applied the lotion on his legs. The next morning he did not have a single bite on his legs, but he had one on his face! The mosquitoes were probably pissed off for not being able to bite his thighs and decided to attack his cheeks instead!
To sum up my thoughts on this product:
Pros:
Spread easily on skin, a pea-sized amount goes a long way
Scent is milder compared to the Bug Shield Oil
Effectively repels mosquitoes
Dermatologist tested
Has no harmful chemicals, safe for our kids
100% of the profits of the Bug Shield Lotion benefit poor farmers in the Philippines
Expiry date is indicated on the bottle
Affordable at P99.75
Cons:
Some may find the scent still too strong
Only comes in 50ml bottles
DEET is a common chemical found in insect repellants. Although effective in repelling mosquitoes, with prolonged used it's effectivity rate drops. Furthermore, it can act as an irritant and may cause skin reactions. Find more information on DEET here.
I admire Human Nature in their commitment to provide Filipinos with products that are free from harmful chemicals. It's true that we need to take extra precaution and keep our kids safe from dengue, but we do not need to resort to chemicals like DEET that may have adverse effects too. It's relief to moms like me that products like Human Nature's Bug Shield Lotion are readily available to us.
Furthermore, Human Nature allows us to contribute to fighting poverty through their Farmer's Fund Drive:
Fight dengue the DEET-free way all while fighting poverty! Be a part of our Farmer's Fund Drive! 100% of the profits from every Bug Shield Oil and Bug Shield Lotion sold will fund the development of sustainable livelihood for our partner farming communities in Malaybalay, Bukidnon. Join us as we show the farmers our commitment to help end poverty for them! -from the Human Nature website
Human Nature's Bug Shield Lotion is definitely a keeper for my arsenal of natural and safe products for my family. There's so much to love about the product, if only the scent can be toned down a bit. Despite that I still love it, because it's a product that delivers.
The Clueless Mom's Rating: 4/5
Have you tried Human Nature's Bug Shield Lotion? Share your thoughts in the comments section below!
Related articles