A few weeks ago, my Little Troublemaker was confined because of a really bad asthma attack on New Year's Eve. I've been very careful not to expose him to smoke or let him run around too much – anything that can trigger a cough, until he was done with his medication.
Because of this I couldn't take him out or bring him to Fun Ranch, and though we always have fun just being at home, I missed spending weekends out with him and my husband. After he completed his medication his breathing improved drastically but he had to continue with his maintenance so that his respiratory system would not be prone to colds and cough after his recovery. But because he was already healthy enough to run about, my husband and I decided to take him out with us one Sunday – to hear Mass and enjoy a meal together.
We arrived too early for the Mass at St. Jerome Emiliani Parish, so we decided to take a stroll and try to get the Little Troublemaker to take a nap because he might get impatient at the Church.
We brought him to Alabang Town Center and had him go on some rides until he was sleepy, he usually takes a nap before lunch time.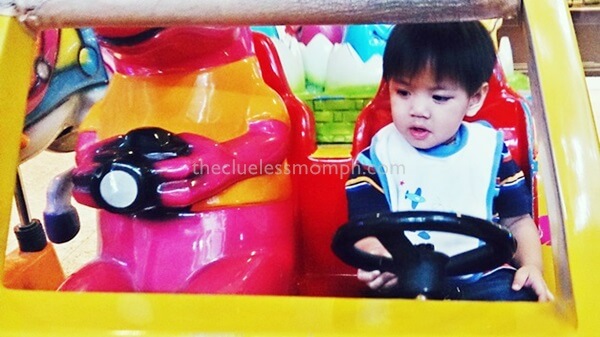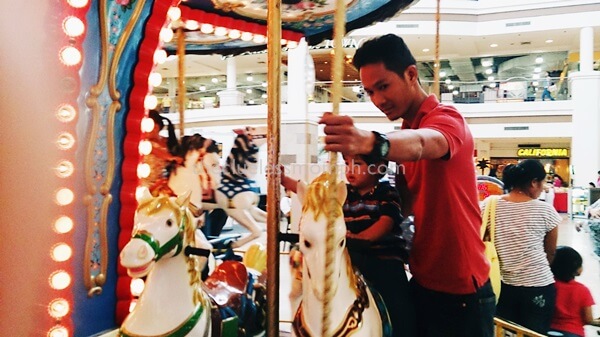 Our plan failed miserably, because this kid was too excited to take a nap! We ended up missing the Mass so we decided to have lunch instead.
Like every couple, one of our major dilemmas during dates is ALWAYS "San tayo kakain?". I know Alabang Town Center like the back of my hand but I do not know which restaurants are kid-friendly, so we decided to roam around until we found a good place to eat. We ended up at Chili's but the place was packed! Good thing the sun was at an ideal angle which shaded their outdoor dining area, so we pulled up some chairs and requested a high-chair for the Little Troublemaker. It was windy enough outside and although it was noon the air felt cool. When the waiter arrived to bring us the menus and some water, he also brought a piece of paper and crayons to keep our kid busy!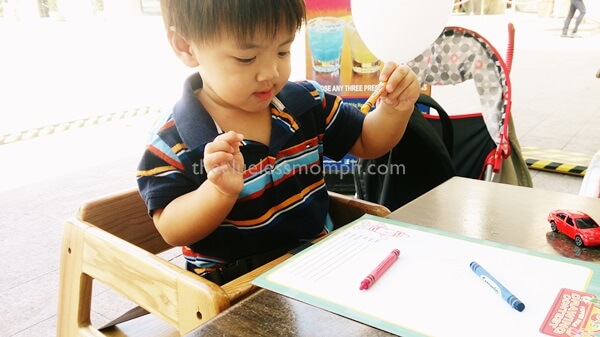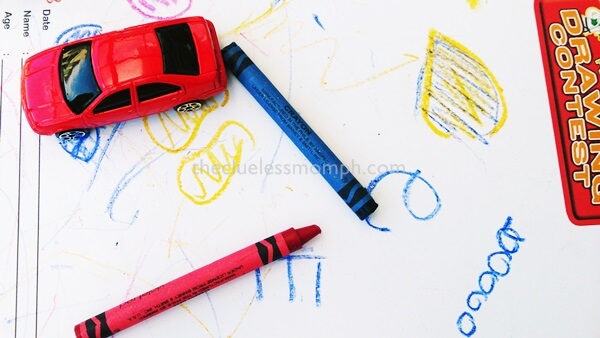 I was pleasantly surprised!
Our little guy was well-behaved and he spent his time doodling while my husband and I scanned the menus and placed our orders. We love the food at Chili's – they serve great food with huge servings at affordable prices and the staff is friendly, too! Although there were instances before when the food was a bit too salty. A few minutes later our little guy was already squinting and rubbing his eyes, and after my husband carried him he fell asleep! We lay him in his stroller and shortly after our food arrived.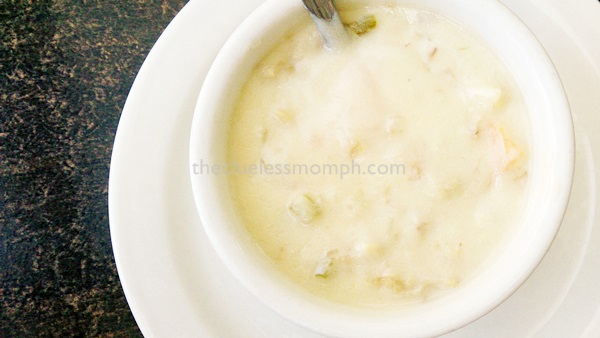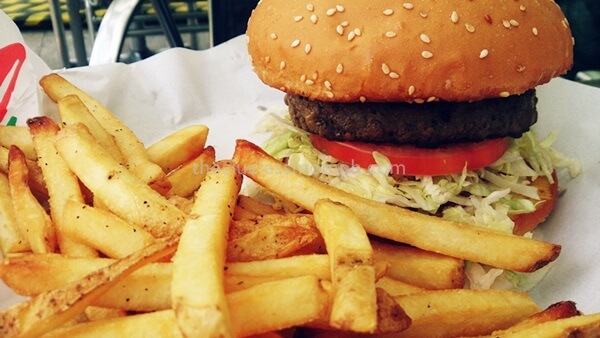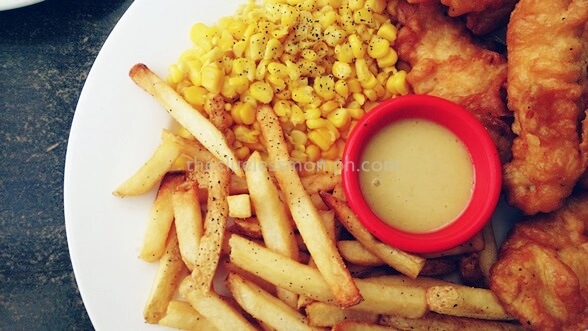 It may not look like it, but these were ridiculously large servings (except for the clam chowder, I wanted more!) and we had lots of leftovers. My husband enjoyed his burger while I did my chicken – I'm a sucker for honey-mustard dips. I just love Chili's, seriously if my husband were to take me here all the time I really wouldn't mind. Although, it'll make me fat. Oh wait, I'm already fat! LOL.
After our meal, the Little Troublemaker woke up and we decided to roam around a bit more. We decided to let him go on the rides near the playground outside Coffee Bean and Tea Leaf. I bought a handful of tokens from Kuya Timezone and my husband accompanied our little guy to one of the car rides.
My heart melts whenever I see these two having fun together. This was the highlight of our day – the Little Troublemaker is obsessed with cars.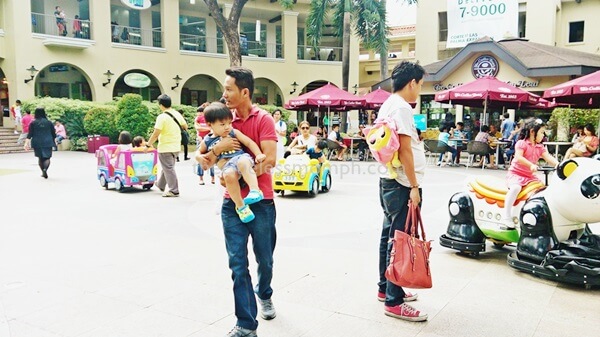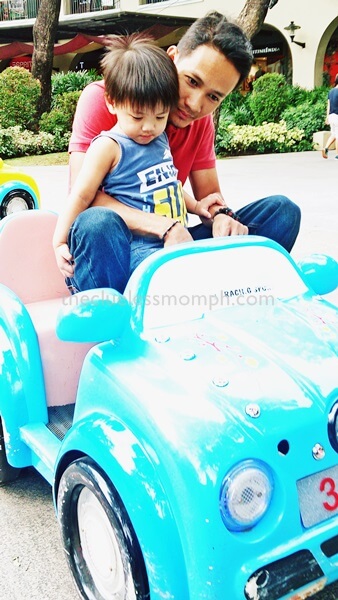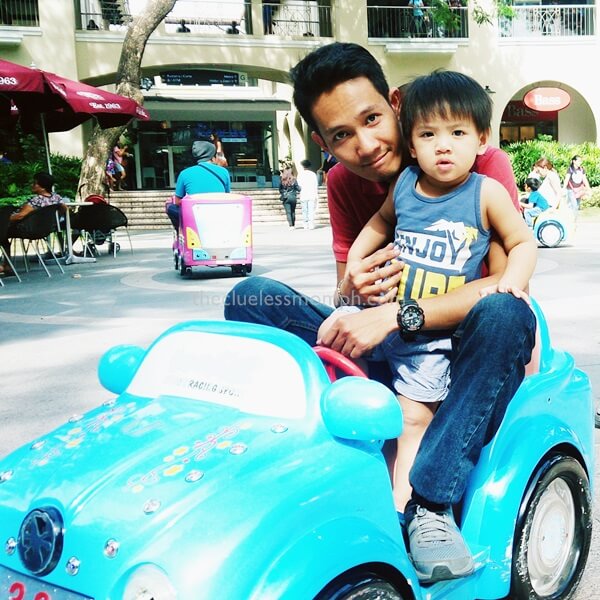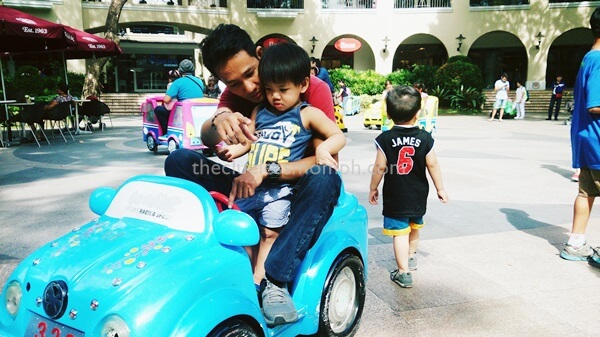 When he finally got tired, we decided to call it a day and head home. I wish we could go on family dates like this more often! Now that my work schedule has FINALLY been adjusted I'll make sure we spend more time together and create more fond memories like this.
How do you like to spend the weekend with your family? Feel free to share in the comments section below!